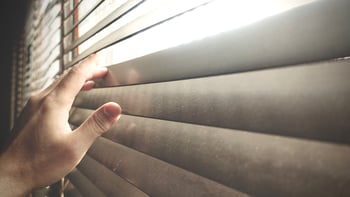 Window treatments are one of the fastest ways to transform the look and feel of almost any room in your home. And if you are a new homeowner or shopping for blinds or shades for the first time, you might have a few concerns as you start shopping. Have no fear, All About Blinds & Shutters is here to help by addressing the five most common concern you might have about window treatments.
1. The Process is Overwhelming
Because there are so many different types of window treatments available, it can be a little mind-boggling trying to decide which ones to buy. You can narrow the field by focusing on:
What you want to accomplish by adding blinds or shades, e.g. block sunlight or make room appear bigger

Size and shape of your windows

Location of your windows, e.g. in bathroom or next to the swing of a door

Your allotted budget for window treatments
2. You Won't Find Something within Your Budget
Window treatments come in all price levels. You should not assume that you will not find options that will fit within your budget. However, you should also remember that the investment you make in shades or blinds will pay off for years to come with adding style, privacy and comfort to your home. If cost is a concern, there are numerous options for functional blinds and shades to fit your budget.
3. They Will Be Too Difficult to Install and Maintain
When you purchase your window treatments from All About Blinds & Shutters, you get the benefit of a team of installation experts who have the experience you need to ensure your blinds or shades are installed correctly. You do not need to worry about whether you are installing them correctly. Maintenance is easy, too because you will be advised on how to care and maintain your new window treatments. And if you ever have any maintenance concerns, the All About Blinds & Shutters customer service team will be available to answer your questions.
4. They Will Block Out Too Much or Not Enough Light
Light control is often the deciding factor in selecting a window treatment. Your needs for light control could vary room to room. There are a variety of blinds and shades that are designed to completely block out light, filter out harmful UV rays, or reduce glare to improve natural sunlight.
5. You Don't Want to Ruin Your Beautiful View
If you have a scenic view from your window, e.g. view of water or garden, you might be worried that adding a window treatment could ruin your view. However, adding one could actually enhance your view by defusing any harsh glares and adding a level of privacy while maintaining your view.
Ready to shop for window treatments? Contact All About Blinds & Shutters where our experts are ready to answer any questions you might have about choosing and installing our blinds or shades.