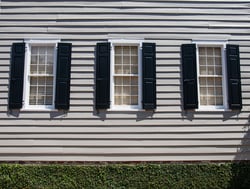 Homeowners are beginning to embrace the idea of exterior shutters. Many of the shutters sold by All About Blinds & Shutters to North Florida residents play an important role in protecting the homes that they are installed on. Some of the shutters chosen are specifically designed to be fully functional and protect both the windows and the expensive frames that hold them.
As with the many beautiful selections of blinds sold at All About Blinds & Shutters, the exterior shutters are available in numerous colors, sizes, styles and are made in different materials to suit any homeowners needs. The expansive shutter collections offer homeowners a variety of functional yet eye catching shutter choices. North Florida homeowners have discovered that when shopping at All About Blinds & Shutters, they don't have to look any further for window treatments.
The History Behind Shutters
Before glass was introduced in the mid 1800's, homes relied heavily upon shutters to protect them. Opening shutters up to let a cool breeze in and to air out the house out was a privilege many regularly took advantage of since there were no modern luxuries to heat and cool the home. These vintage shutters were also used to protect the home from fierce winds, rain, snow and other natural elements.
When homeowners started using glass windows for even further protection, the shutter became even more important. They were now responsible to protect these highly coveted new and very fragile windows. While it is assumed the modern day shutter is no more than a decorative piece, that is not always the case.
Benefits of Exterior Shutters
Provides protection from harsh weather conditions

Extreme durability

Light control

Energy efficiency

Offers increased privacy control

Curb appeal
Exterior Shutters Increase Curb Appeal
Though a great number of Florida residents replace their shutters because they are worn out and outdated, many do it because they want to give their home a fresh new look. Replacing shutters can make a home look entirely different. Shutters are a definite enhancement for new paint, siding, and any other exterior home improvements. Considering the relatively inexpensive cost for new shutters, simply replacing them instead of making other exterior changes can be all a home needs to go from dreary to beautiful. A lot of homeowners that have purchased a used home often discover that updating the shutters can make even an old 'fixer up' look like the new house on the block.
Different Types of Exterior Shutters
Ultralite: These types of shutters are the most affordable but still high quality. These are the entry level Polymer shutters that come in 2-1/2" and 3-1/2" louver.

Lykewood: These shutters look like wood but have the features of premier polymer. Available in sizes 2-1/2", 3-1/2" and 4-1/2", Lykewood has many customization options.

Wood: Although it's the least durable and energy efficient of the three, wood is still a great option. Shoppers can choose between a classic smooth finish or a sand brushed finish in sizes 1-3/4", 2-1/4", 3-1/4", 4-1/4" and 5-1/4".

To see a full comparison chart of the different types of exterior shutters, click here.
When to Replace Exterior Shutters
There are some things that homeowners should know when it comes to figuring out if it is time to replace their homes exterior shutters. Many of these things are very visible while other things need to be looked at closely. Some of the most common reasons homeowners need to replace their homes shutters are when they notice the following signs on their current shutters:
Dryness along with fading and cracking.

Warping or ill-fitting shutters.

Shutters are worn out from use and no longer work properly.

Outdated styles and worn out hardware.
A great number of Jacksonville and other North Florida residents find that if their shutters are just worn out or are not working correctly, the signs will be painfully obvious.
Considering Factors for Purchasing Exterior Shutters
There are many things to consider such as what type, style, materials, and hardware will look best with a home. Carefully chosen hardware such as the shutter hinges and shutter dogs, shutter straps, as well as shutter bolts all play an important role in how good shutters look on a home. Also, exterior shutter help homeowners save substantial amounts on utility bills.
Your Exterior Shutters Provider
For over 20 years All About Blinds & Shutters has been giving homeowners the expert advice and free estimates that have led to hundreds of beautified homes in North Florida. We offer our customers the kind of help they need to determine exactly what the windows of their homes lack, or are in need of. Set up a free estimate and also receive free personalized one on one professional assistance from one of the most trusted blind and shutter suppliers to be found in North Florida.