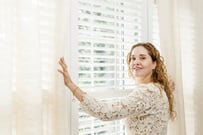 We strategically place windows in a home for three major reasons: providing views, fresh air, and natural light. Despite the need for this, we also need to consider how helpful or harmful the locations of our windows are for our wallet. Something all Floridians need to know is that windows can account for up to 50 percent of heating and air conditioning costs in a home. One of the great things about the Sunshine State is the beautiful weather, but residents can do a few things to save on energy costs in their homes.
Window Locations
Not all windows are treated alike when you are attempting to get the biggest bang for your buck. Knowing what areas of your home need the main focus is important. For west-facing windows that bring in the hottest light, give the heaviest coverage. For north-facing windows, give the least coverage because they bring in the more natural, cool light.
Window Coverage
Window coverage can help any homeowner or resident save on energy costs throughout the year. They can also allow you to make decisions based on your taste, home décor, and budget. A variety of coverage options are available for self-installation or installation by professionals such as All About Blinds of Jacksonville.
Faux wood blinds are often chosen in a climate with moist air because you do not have to worry about the wood warping due to the humidity. Many places in the Southeast, including the Jacksonville area, find these to be extremely cost-effective. In addition, they still are aesthetically pleasing to the eye. They are moderately priced and offer privacy and energy-efficiency.
Wood blinds are often the most expensive, but offer a moderate amount of privacy, as well as energy efficiency. Aluminum blinds are the least expensive, but often the least durable. They offer the same amount of privacy but do not insulate as well as wood or faux. Vertical blinds come in materials such as PVC or fabric. They are moderately priced compared to the others and offer the same amount of energy-efficiency and privacy.
Window Shades- This shade is flat fabric that rolls up and down.
Roman Shades- This shade is flat material that creates folds as it is raised.
Opacity- Depending on the opaqueness of the shades you choose, you can limit or enable the amount of privacy, natural light, and the view you allow from your home.
Shutters
Plantation shutters are one of the most desired forms of window treatments on the market today. They offer stellar durability, privacy, and energy-efficiency.
Plantation shutters come in the following options:
Polymer
Painted Wood
Stained Wood
Window Tinting
Another option, in addition to window treatments, is tinting your windows in order to create the most energy-efficient home possible. Oftentimes, people use this option in order to not sacrifice the views of certain windows and can be used in hand with highly transparent window treatments. Although faux wood blinds hold up well with the Jacksonville heat and sunshine, adding window tinting could also help your heating bill and keep you cool in those hot summer months.
Energy Efficient Windows
Today, many options exist for people who are looking to replace windows or purchase new windows for a new home. These windows can save you on your energy bill in addition to possibly using a smaller HVAC system in your home. Energy-efficient windows can often allow for tax write offs as well, saving you even more money in the long run. An energy-efficient window along with faux wood blinds would offer Jacksonville residents one of the most cost-effective options for saving energy in their home.
Make sure you take a look at your options to optimize the use of your windows and help you save money and energy in your home. All About Blinds serves the Jacksonville area with locations in Jacksonville, St. Augustine, and Fernandina and can help you achieve the desired look and efficiency of your windows.