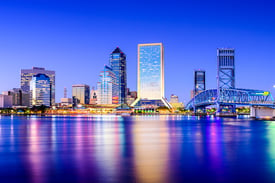 Window treatments do more than just dress up a window. They also control the amount of light let into the room, adjust how much privacy you have, and help keep your heating and cooling costs reasonable. Choosing the right window treatments depends on both your personal style and the area where you live. Here's a look at some Jacksonville neighborhoods and which treatments would work best for each.
Downtown Jacksonville
Although this area is primarily filled with businesses, there are plenty of people who have carved out a home of their own in Jacksonville's downtown area. Trendy lofts and cozy apartments are what's most common, and window treatments in this area call for the best in privacy and style.
Motorized shades are perfect for these urban oases as they are modern and can be applied to almost any type of shade. They are also ideal for the tricky to reach windows that are often found in converted lofts and apartments. Let the light in with a touch of a button, or gain privacy and energy efficiency with ease as shades draw closed.
The Beaches and Ponte Vedra
Even if you don't have beachfront property, no home is ever very far from the water in these neighborhoods. Homes in this area are trendy and upscale, yet retain an air of the "salt life" that locals treasure. Woven wood shades provide the perfect balance between rustic, natural beauty and elegance.
Open weaves allow more light and clearer views while tighter weaves keep rooms cooler and more insulated. For those rooms that receive a lot of direct sunlight or need a bit of extra privacy, liners and blackout shades can provide added protection. Plus, trims, valances, and decorative finishes allow for endless customization options.
San Marco, Riverside, Ortega and Avondale
These southern neighborhoods that hug the St. John's River feature homes with a variety of architectural styles that range from cute bungalows to exotic Mediterranean style. Plantation shutters are ideal for these homes due to their versatile, yet classic style. They look great in any style home and rarely need additional window treatments to complete the look so you can let your home's style speak for itself.
Plantation shutters insulate well when closed, let in lots of light when opened, and are tough enough to stand up to years of use. Many residents in these neighborhoods appreciate the insulation of plantation shutters because these homes are typically older and have a harder time retaining heating or cooling.
Southside and Arlington
As this area continues to grow, so does it's distinction from other Jacksonville neighborhoods. The Southside is always the place to be if you're looking for the best in shopping, entertainment, and nightlife. Homes in this area cater to busy people on the go who love living it up in the city. For Jacksonville's southsiders, blinds offer the best no-fuss window treatments to achieve energy efficiency, privacy, and light control all in one low-maintenance package.
From vertical blinds for full-length windows and patio doors to traditional horizontal wood blinds, it's easy to find just the right fit for any home. For windows that need added privacy or protection from direct sun, beautiful draperies can provide added protection while decorative cornices add just the right elegant touch.
Mandarin, Orange Park and Fleming Island
These areas south of I-295 on either side of the river were once known for the beautiful groves of orange trees. Today, they form one of Jacksonville's fastest growing communities. Many homes in the area still carry the echos of the old estate homes while still maintaining modern interiors.
Roman shades are just the thing for homes in this area as fabric designs are available to suit any taste, and their versatility allows each room to be completely customized from top to bottom. Shades that open at the top and bottom can provide added light without compromising privacy, and heavier fabrics are perfect for adding extra insulation.
Northside, Amelia Island, and Fernandina
With its large lot sizes and riverfront properties, these neighborhoods are steadily moving towards becoming one of the most desirable areas of the city. Because most of the homes in this area are up and coming, window treatments should be crisp and contemporary. They should also provide ample protection from the outdoors while allowing maximum views on beautiful days.
Honeycomb shades are perfect for this area because they insulate very well. Plus, they become virtually invisible when retracted. The unique cellular design provides the highest level of insulation without adding extra fabrics, and cordless designs are ideal for homes with children where safety is a concern.
Making the Most of Your Window Treatments
To get the most from any window treatment, it helps to understand how they contribute to your home's comfort and energy efficiency. On warmer days, window treatments can block the hot sun from warming your rooms and keeping the air conditioner running. On cooler days, they can let the light in to warm the room and then close up tightly to seal the heat in during the chilly nights. In other words, window treatments help to keep the temperatures inside your home steady. They help keep expensive heated or cooled air inside the home where it belongs so you can run your heating and cooling systems less frequently.
If you're not sure which window treatments are right for your home, contact the experts at All About Blinds. We can help you achieve the perfect balance between energy efficiency and beauty while keeping in line with the style of your home and neighborhood.