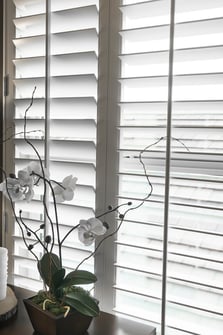 For many homeowners, window treatments are a huge decision, one that adds the finishing touch to each room. One of the best choices in versatile window treatments are plantation shutters. Plantation shutters are durable, stylish, and complement many different styles. Whether your home has a traditional design, feels more contemporary, has a rustic charm, or a coastal design scheme, these shutters will fit in nicely.
Plantation shutters got their name when they were designed for large plantation style homes in the South. They found that utilizing wider, louvered style window shutters allowed for more light and optimum control. The divider rail also allowed for separate control of both the top and bottom. Besides style and flexibility, there are many advantages of installing shutters. Shutters also provide outstanding performance in privacy control, lighting and heating control, as well as being durable and easily maintained.

Privacy Control

Privacy in your own home is important and the amount of privacy you desire is easy to get from shutters. Again, these shutters are designed with a divider rail and separate control for both the bottom and the top louvers. This feature allows you to control the amount of privacy you have. The slats can be tilted upwards or downwards to allow for light to penetrate without compromising your privacy. They can also be opened completely or only slightly opened depending on your preferences and the room they are in.

Reduces Heat and Blocks Sunlight

These shutters are well equipped for both summer and winter months. During the hot summer months, the shutters keep the heat out. Due to their arrangement and durable construction, you keep the sun out which blockades your home from the heat. Blocking the sunlight during the peak hours will aid in keeping your home cool. In the cold winter months, the shutters do the opposite - keeping cold out and warmth in. When closed, the shutters create a sealed, insulated space that stops cold from entering your home. This makes them very versatile, working in many windows and rooms in your home.

Decorative Purposes

Plantation shutters add a great deal of style and sophistication to any room and window they are added to. They stand alone with their furniture grade finish and the streamlined stylish molding. They also come in many styles and colors for you to choose from, with 1-3/4 to 5-1/4-inch slats and your choice of hardware.
The kitchen is the most popular space for shutters in Jacksonville homes but all the rooms can benefit from the upgraded feel of shutters. Bedrooms, living rooms and dining areas can all find use in shutters. They blend in well with every room's decor and help put that final added touch to any home design. Due to the decorative moldings and fine finish, the shutters often do not need valances or draperies to look exceptional. They stand alone well and increase the value of any home.
When choosing whether or not shutters are the right option for a room, you will need to consider the following:
The most obvious deciding factor is the style of the room. Fortunately, since plantation shutters come in many colors and finishes, they can complement a wide variety of interior design styles, from more modern and contemporary, to traditional and rustic.
The size of a room can determine the size of the slats in the shutters. The traditional choice is to use larger slats in larger rooms or rooms with high ceilings such as the living room, and smaller slats with average to smaller sized rooms such as bedrooms.
The ease of use and frequency of cleaning will determine whether you get a bi-fold design or center-opening shutters.

Easily Maintained

All window treatments require a basic and routine cleaning schedule to maintain their beauty. Shutters are very easily maintained. For optimum appearance, routinely dry dusting shutters is all that you need to do. These shutters do not require any specific products for cleaning. Just a damp cloth can do the trick. If you find your shutters need a little more, just use a mild soap and water solution. There are a few key points to remember when caring for shutters:
Do not use cleaners that contain ammonia or bleach
Dilute soap, Murphy's Oil, or similar product in clean water
Prevent accidental over-spray from damaging your wood window coverings, spray glass cleaner for windows onto a cloth rather than directly on the window
Plantation shutters are a great addition to any window. With their beauty, easy maintenance, and durability, they not only boost your home's aesthetic and curb appeal, they also increase your home's energy efficiency. All About Blinds & Shutters can help you determine if plantation shutters are right for you. You can easily schedule a free estimate or come visit our showroom and discover the customization options available for your window treatments.