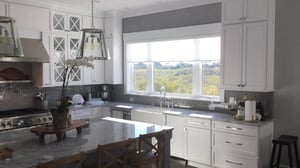 What once might have seemed like a luxury feature for some, home automation is quickly becoming a necessity for many homeowners. With busy lifestyles, having a little help from technology in the home can make your life much easier, safer, and less expensive. But the necessity of home automation is not limited to alarm/monitoring systems, smart thermostats, or your home entertainment systems anymore.
Window coverings can also be automated, and automation offers numerous benefits; you may wonder how you ever lived without before! Let's look at some of the benefits that automating your window treatments can provide for you and your family.
Automated Blinds Are Just Plain Convenient
Instead of having to take the time to walk throughout your home adjusting blinds, you can adjust all with the touch of a button or voice command. This can help you gain back minutes of your time each day between opening, adjusting for sun, or closing every day. You can also integrate automated shades with other smart home technology, like the Amazon Echo or Google Home to make your life that much more convenient.
Keeping Your Kids Safer
Basic windows blinds with cords have always been dangerous in homes with young children and pets. Sure, you could wind up the cords, to keep them out of reach, but there was always the possibility of someone forgetting to rewind them after adjusting the blinds. If you have avoided putting blinds in your home before, automated shades eliminate the danger of dangling cords and keep your little ones safer.
Saves Money on Cooling Costs
Rising energy costs to keep your home comfortable during the hot Florida summers can really eat away at your budget. Keeping utility costs under control are often a factor for the necessity of home automation. Having motorized window shades installed in your home can help save money on your air conditioning costs. They can keep the sun's bright and hot rays out of your home during the hottest times of the day. But they can also allow you to enjoy the natural sunlight during other times.
Puts Your Mind at Ease
Just like you can program automated lights to go on and off during various times of the day while you are away, you could do the same with automated window coverings. You can program your home automation system to make it appear that someone is home even when you are away at work or on vacation. This technology can give your and your family peace of mind that your home is safe while you are not at home.
If the necessity of home automation for your windows coverings is something you and your family want and need, All About Blinds & Shutters is ready to help. Contact us today for your free estimate.