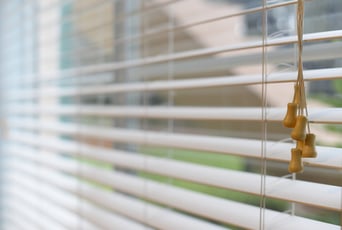 Children are wonderful, but we all know that they find their way into everything. Many parents have a collection of both amusing and terrifying stories about times when their children have ended up in precarious positions they shouldn't have. Childproofing is a process that never truly ends, only evolves as kids find new ways to create trouble.
You can help prevent scary moments and unnecessary injuries by taking simple steps to enhance safety in your home. Loose or dangling cords can be tempting for children to play with. They can become wrapped around limbs or necks to cause injury or death. Seeing as October is National Window Covering Safety Month, we'd like to share some great ways you can make window treatments safer for the young people in your life:
Arrange your child's room with safety in mind. Move all furniture, including cribs, changing tables, rocking chairs, and beds away from windows that have corded window treatments. This can help prevent children from playing with the cords. Keep all toys away from cords as well.

Change out coverings that have cords. While replacing the blinds or other coverings on many windows can get pricey, you can lessen the impact by doing one window at a time. Begin with those closest to where the child spends the most time, and work outwards throughout your home. Replace any window coverings from before 2001 with more recent products. Cordless blinds and motorized shades are now available, and can greatly increase safety for young people.


Verify that all cord stops are installed properly, and that all cords hang out of a child's reach. Do not just tuck cords out of the way, but ensure they are securely held by safety devices designed for the purpose. Fasten any continuous loop cords to the wall or the floor.

Check all products you have installed to verify they meet all current safety standards. While safety standards cannot anticipate all situations, they are a place to begin when deciding if you need to replace your window coverings.

Never assume your children have outgrown the risk presented by window treatment cords. Accidents regarding dangling cords have been reported involving children up to eight years old. Older children have better judgment, but they are not immune to either temptation or simple bad luck.

If you are unable to replace a dangerous hanging cord, it is possible you can cut it off. While you may lose some functionality in raising or lowering your blinds, you can still use manual methods to tilt the slats.
Safe window treatments are an important aspect of safety at home. If you have questions or concerns regarding the safety of your window treatments, or if you have decided that replacing your window treatments will enhance safety in your home, contact All About Blinds & Shutters for more information! Our experts will be happy to assist you.