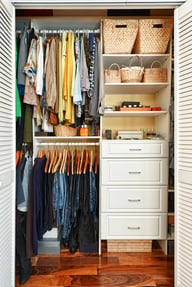 A common resolution for homeowners is to update and freshen up their homes. With the cooler weather of winter, it is the perfect time to give your home's interior a new look. The good thing about interior design is that you can combine what you have with new purchases to transform your home's appearance and feel.
Clear Away the Old
Before you buy new furniture, install blinds, or paint the walls, you need to first clear away what is left from 2014.
You need to clean the house, top to bottom. Deep cleaning your home will make the whole place look and smell fresh. Take one room at a time.
Dust every surface thoroughly.

Clean the baseboards.

Clean all the picture frames, knickknacks, and accessories that have collected dust in 2014.

Clear off your kitchen counter and clean it.

Scrub the bathroom tile, including the grout.

Make sure you handle every surface in your home.
Declutter as you clean the house. As you are cleaning, honestly assess the things you want to keep. Anything that you don't want to keep needs to go to charity, gifted to someone who would love it, or put in the trash can. If you find that you still have too much stuff, consider putting some of it in storage. Having a small stash of items in the closet gives you the chance to exchange things every few months. If you find that you leave the same things in the closet all the time, it is time to let it go.
Make Repairs and Refresh What You Got
Repairs are something that usually don't cost much to make. You might need a few screws, some wood glue, or some sandpaper to get the job done. If a piece of furniture needs more repairs than you can handle, have someone else make the repair or consider getting a replacement.
Look around your home for things that you can refresh. An outdated lamp may look completely different with a new shade. An old dresser that is old and faded would look fantastic after a good coat of paint. Maybe your old dining room table needs a fresh coat of stain or varnish. These kinds of projects can be done as a DIY or you can have a professional handle the work.
Decide What Needs to Be Replaced
If you are truly going for a renewed 2015 interior design, you may need to replace what you can no longer use or salvage. Look at all your interior furnishings and surfaces.
You may find that your floors need to be replaced. Old carpet retains stains and odors. Putting in new carpeting or going with a hardwood instead can totally transform a space. Old vinyl floors are hard to keep looking clean, no matter how hard you scrub. Replacing them with tile will upgrade both the value and the look of your home.
Take a look at your window coverings. If you have drapery designs from the 1980s, now is the time to take them down and go with something more modern. Roman shades offer a nice fabric covering without the volume of traditional drapery. For a more traditional look, wood blinds or shutters are a great choice.
Consider each piece of furniture you have. Old upholstered furniture can retain stains and odors, just like carpeting can. While cleaning it may extend its life, at some point, you will need to completely reupholster it or replace it. Poorly constructed wood furniture will fall apart in just a few years. Replacing these pieces with good quality pieces is a long-term investment in your home.
Shift Things Around
While you are freshening the look of your 2015 interior design, consider moving things around. Unless something is bolted to the frame of the house, it can be moved. Simply rearranging the furniture layout and flow pattern in a room can make the space feel fresh and spacious.While moving things, consider taking things from one space and putting them in another. Here are some simple examples:
Exchange the side tables in the guest bedroom for the ones in your master.

Rearrange the pictures in your family room.

Switch the family pictures you display in the living room with those in the master bedroom.

Use the dining room rug in the guest room, and vice versa.

Swap the curtains in your bedroom with those in the family room.

It is very easy to get a new look by rearranging and exchanging furniture items throughout the house.
Bring Things Together
Keeping things in order helps keep the house looking like a 2015 interior design magazine. Add organizers to your sock drawer. Use a label maker to bring order to your home office. Have a custom closet installed to keep all your clothing and accessories organized in one location.
When you are in the middle of cleaning, decluttering, and rearranging, you may find you have a collection. It may be a conscious collection of items or one that has just happened. Displaying collections together gives them more impact. This can work with just about anything, including glass, ceramics, or needlework pieces.
Don't forget to add some living things to your home. Plants and cut flowers add a freshness that nothing else can duplicate. They bring color to a room without any effort.
If you need 2015 interior design options in Jacksonville, call us here at All About Blinds & Shutters. We offer a full range of blinds, shutters, screens, and custom closet installations.