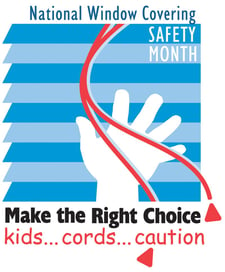 Beautiful window coverings lend a touch of elegance to any home. They can accentuate the colors found within decor, complement carefully chosen shades of paint, and create texture and motion for additional aesthetic appeal. But your window treatments can also pose a serious danger to children who live in or visit your home. This is why being aware of window cord safety is important.
According to the US Consumer Product Safety Commission (CPSC), cords dangling from window coverings represent one of the top five hidden dangers in homes across the country. The cords attached to window blinds or other window treatments seem like innocent conveniences, but curious children may end up with them tangled around their necks. National Window Covering Safety Month this October is the perfect time to evaluate your window coverings for safety!

The Hidden Dangers of Window Cords
Parents of young children go to great lengths to make their homes safe for their little ones. Cabinet locks prevent children from gaining access to dangerous substances, and outlet covers keep out too-curious fingers. Window blind cords, however, often end up overlooked in the efforts to babyproof a household.
Older window coverings made before modern safety standards went into effect may not possess the safety features that make today's blinds far safer in homes with children. Exposed cords may look like fun toys to young children. Children may also become tangled in them without intending to. Every year, children die of strangulation from these cords.
Cordless Options: Making Your Window Coverings Safe for Children
The CPSC recommends that homes with small children in residence, or homes with frequent young guests, install window coverings with inaccessible cords. Cordless window coverings offer an even better option. These window treatments are readily available from reputable dealers such as All About Blinds and Shutters in Jacksonville.
If you have window treatments with cords, consider these additional measures you can take to keep children safe:
Move furniture away from windows where it might assist the child in reaching the cords.

Keep cribs and beds away from windows, since a sleeping child can accidentally end up tangled in dangling cords.

Store any cords out of the reach of children.

If you have draperies on a continuous loop pull, pull the cord tight and anchor it to the wall or floor.

Keep tasseled pull cords as short as possible.

Properly install cord stops and adjust them for inner-cord movement.
Cordless Window Coverings Offer Safety and Beauty to Your Home
With the holidays just around the corner, October is the ideal month for investing in updated, safer window coverings. Keep your youngest holiday guests safe and healthy by installing gorgeous, modern cordless window treatments that will brighten your windows for all upcoming celebrations. You can request a free in-home estimate to learn more about your options for creating a childproof space with undeniable style. Let our expertise transform your home into a unique haven for you and your family!