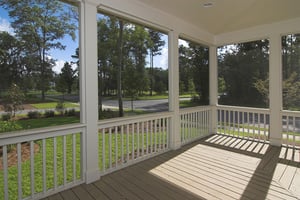 Retractable screen doors are a perfect solution for the Jacksonville area. However, homeowners are often hesitant on investing in them because our area really only has cool enough weather to let in the outside air for a couple months out of the year. Now that we are into Fall and those cooler months are here, it may be time for you to reconsider an investment that'll you'll never regret - no matter what time of year it is.
How do retractable screen doors work?
The design of a quality retractable screen door makes the assembly look like the molding around your door. Because there isn't a lot of unnecessary hardware, the attractiveness of your outdoor space is absolutely uncompromised.
The door pulls out almost like a blind would and latches securely in place over the doorway or opening. When not in use, the screen rolls neatly back into place in the casing and is ready to go again when you want it.
Why is a retractable door better than a normal screen door?
Safety: Retractable screen doors don't slam on fingers or close on you while you're going in and out. Quality Clearview doors are also designed with a speed control feature so that they don't snap back too quickly when they are unlatched.
Customization: These great doors can cover even large sized openings and can be customized exactly to the height and width of your door. This allows for complete coverage of your opening.
Easy Install: A professional can bring your custom retractable screen doors and install them quickly and efficiently. You can begin enjoying the sunshine and fresh air right away.
Affordable: When someone says "custom" you may see dollar signs flash across your mind but custom designs have significant advantages. A properly installed custom product, whether on a window covering, door, or architectural feature, will last.
Because it's not adjusted and made to fit your space, but is built specifically to the correct size, you actually save money by not having to replace custom products.

Retractable screen doors properly fitted and installed mean not having to replace damaged screen doors. The retractable design also preserves the integrity of the screen for you and protects from holes and tears.

Clearview products are powder coated with a finish that resists wear and tear, and the elements. Heat, sunlight, rain and moisture won't change the attractive appearance of your retractable screen door.

A retractable screen door can cover a double opening with just one screen. You can save over screening in a double door separately.
Versatility: A retractable screen door can work anywhere you want it.
Inswing doors

Outswing doors

Double doors

Sliding doors
Durability: A family can be hard on a screen door! Coming in and going out for children and pets, entertaining, having meals outdoors – all of the ins and outs of enjoying the outdoors takes a toll. Newer designs in retractable screen doors have built-in durability and many are covered by extensive warranties. Talk to a professional to find out more about how retractable screen doors stand up to lots of use.
Would a retractable screen door affect the appearance of my outdoor spaces?
Of course there's nothing more disappointing than to choose a type of door for your home and find that it doesn't look right after it's installed. As with any kind of shopping, the best thing to do is take your time and make sure you know all of your options.
Visit a local showroom and see how a retractable screen door fits. The best way to know whether it will achieve the look you want is to see it first hand.

Talk with a qualified professional about installation. As a homeowner, you know that proper installation makes all the difference - not only in the life of the product but in the lasting appearance of the installed product. Retractable screen doors are surprisingly non-invasive. You'll be pleased to see how easily they fit into your existing doorway spaces and match up to current moldings.

Evaluate the different products available. There are some pre-made products on the market and you may find that they seem very budget friendly. Before you buy, get advice from an experienced designer about the advantages of custom products as opposed to buying pre-made products. You may be pleasantly surprised at how the value of custom products, and a designer can also suggest options for your home you may not have thought of.
Don't wait to get professional advice and start enjoying our great fall and winter weather!