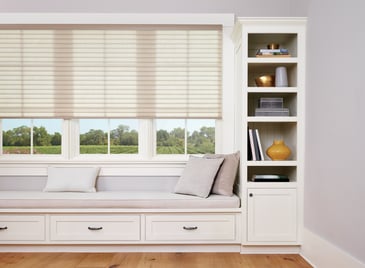 One of the most imaginative and sought-after features in a home is a comfy window seat. Some people consider it the best view in the house--which is why it is so important to pick window treatments that allow you to enjoy your window seat and all it has to offer. From creating a comfortable, private nook to a light-filled space for reading, here are some great ways to decide how to create your own unique window seat environment.
Options to Consider for Window Seat Treatments
The most important consideration when choosing your window treatments for a window seat is that people will be using the windows as a backrest; they will be leaning against the treatments. Try to choose a treatment that is both soft and durable for the maximum amount of comfort, but also pick something that is durable and will have longevity. When a window seat has glass on three or more sides, this becomes especially important as these windows will be the only option to lean on when sitting in this space.
Motorized or cordless
When it comes to a window seat, sometimes the depth of the seat can make it difficult to open and close the window treatments. Consider choosing either motorized window treatments or a cordless option for ease of use. This can also make the area much safer, especially if this is a spot that kids are going to use. Not having cords around makes your window seat a safe, imaginative spot.
Light Control
Wherever your window seat is in your home, check to see where the sun hits it at different times during the day. If your home is shaded by foliage, you might not want to get shades that will block out a lot of light--a better option would be a sheer covering for privacy. However, if your window seat ends up getting a lot of afternoon sun, you might want to consider shades that can help absorb the heat. This creates more energy efficiency so that the seat can be used throughout the day, even when the sunshine is streaming in.
Privacy
A window seat is made to be a comfortable spot that creates the feeling of sitting outdoors while remaining in your home. One of the best options to keep your view while maintaining privacy is to consider the opacity of your window treatments. Many treatments allow natural light to flood into your nook without sacrificing your view. Another option for privacy is window treatments that have a top-down opening. This way, you have an unobstructed view of sunshine and the sky out the top of the window, but have privacy at sitting level.
A Few Specific Options for Window Seat Shades
Roman Shades: Roman Shades are fabric shades that fold neatly to the top when drawn open. They are available in a classic flat design that has no folds when lowered or in a teardrop design that holds the Roman fold of the fabric when the shade is lowered. They can also have the top-down feature as mentioned above.
Screen Shades: Screen shades are available as window shades (flat fabric that rolls up and down), or as Roman shades (flat material that creates folds as it is raised). They provide excellent U.V. protection and glare control while at the same time preserving natural light without sacrificing the view. They have varying opacity options and can be motorized. They are also made with easy-to-clean, durable materials.
Shutters: If you are looking for durability as your primary concern, then shutters are your best option. Shutters are the most desirable window treatment on the market today. They provide outstanding performance for insulation, light control, and durability.


Want Help Picking Out the Best Window Treatment Option for your Window Seat? All About Blinds & Shutters Can Help!
You need the perfect window treatment for your special space to create a window seat that is both comfortable and a unique getaway within your home. At All About Blinds & Shutters, we are here to answer all your questions and help you pick out the perfect window treatment. Contact us today to put the finishing touches on your window seat!