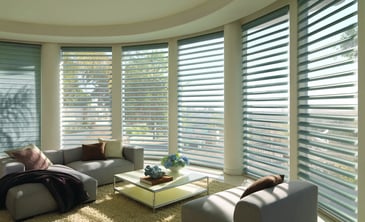 Many homeowners put a lot of time, thought, and effort into creating the perfect interior for their homes. They want to create warm spaces for family and friends to gather and feel welcome and comfortable. One of the biggest contributing factors to the warmth of any home is the lighting.
You can spend all your time and energy finding just the right light fixtures with just the right bulb wattage to achieve the ambiance you desire, but you will still have to contend with the effects of the biggest light fixture of them all: the sun.
When you're creating your home's ambiance, it's important to keep in mind how natural lighting will affect your home. That's why the right window shades are vital in helping you achieve the perfect aesthetic.
If you want to create a warm and cozy atmosphere in your living space, soft lighting is the way to go. However, natural light can be bright and overwhelming in certain rooms at certain times of the day. That's when Silhouette and Pirouette window shadings by Hunter Douglas come in to save the day and make every room of your home just as you imagined it.
What are Silhouette Window Shadings?
Silhouette Window Shadings are one of the most popular window shadings on the market today. They give you the best of both worlds - you get the privacy that a window shade provides, but without sacrificing natural light.
Instead, the Silhouette diffuses natural light into your home with its unique S-shaped vanes that float between two sheer panels. When these vanes are tilted, the outside world can't see into your home, but natural light is still creating the soft and warm atmosphere you want.
Silhouette Window Shadings also offer UV protection with certain fabric selections. These shades can filter up to 88% of harmful UV rays and keep the light that's coming in safe. This means your family isn't exposed to harmful rays and your furniture and flooring are protected from sun damage.
Finally, Silhouette Window Shadings come in a variety of different colors and patterns to complement any decor you choose for your room. They can also be customized with options like Silhouette ClearView which diffuses light and blocks UV rays but doesn't obstruct your view of the outdoors. Additionally, Silhouette Duolite gives you the option of Silhouette's traditional sheer light or completely opaque room darkening roller shades.
What are Pirouette Window Shadings?
Hunter Douglas' Pirouette Window Shadings are another popular choice on the market that provides privacy without compromising the soft light aesthetic you desire. If you're looking for clean lines in your room's design, these are the window shadings for you.
With more opacity options, the Pirouette Window Shadings give you complete control over how much privacy you get and how much of the great outdoors you can see from your window. Incorporating both horizontal fabric vanes and sheer backing, controlling your light and privacy is as easy as a pull of the wand. When you pull the operating wand once, the fabric vanes expand to close the shade and provide both privacy and soft, diffused light to your room. Pulling the wand a second time causes the vanes to contract to provide a clear view of the outside.
Available in a variety of fabrics, Pirouette Window Shadings allow you to achieve infinite combinations of light control and privacy. And just like Silhouette Window Shadings, they filter up to 81% of harmful UV rays, protecting your family and home.
Ready to See for Yourself?
Are you ready to take a closer look at these two shades that will give your home the soft light you're looking for and the privacy you need? Our professionals at All About Blinds & Shutters have the experience and expertise to help you make the best selection to achieve the look for your home that you're dreaming of. Contact one of us today to discuss how we can help you!