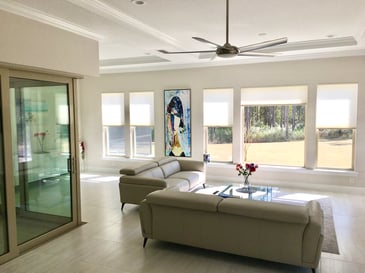 Here are some easy (and stylish) ways to do it!
There are many excellent reasons to preserve natural light in your home. For starters, the sun's rays give rooms and everything in them a more attractive glow. It's good for your health, too! Exposure to natural light helps our bodies produce Vitamin D, regulates our sleep patterns, and boosts energy. It even lifts our mood, especially in the darker winter months when some people are prone to seasonal affective disorder, a type of depression.
But you also want privacy in the comfort of your abode. Large windows are gorgeous, but they also give others a literal "window" into your lives, which can make you feel like you live in a fishbowl.
So how do you reconcile these two needs? Plantation shutters, blinds, and shades are all great options to give you light control and privacy at the same time. Read on for some very stylish ways to ensure your home has the privacy you and your family desire while still allowing the sun to shine in!
Plantation shutters
Plantation shutters are wide, flat, or elliptical louvers. The main difference between this popular window covering and traditional shutters is the width, as traditional shutters are usually only about 1 ¼ inches wide and plantation shutters are as wide as 4 ½ inches. Plantation shutters can be made from wood or composite wood, PVC, or MDF.
Plantation shutters are among the most popular types of window covering today, thanks to their exceptional ability to regulate light and privacy. A divider rail allows you to separately control the top and bottom louvers, so you can tilt the slats up or down to allow light to penetrate without compromising privacy. Other benefits of plantation shutters include:
Complement any home style such as island, traditional, contemporary, or craftsmen

Provide a polished look that doesn't require additional accents, such as a valance or drapes
Blinds
Blinds are hard window coverings composed of slats made of wood, metal, vinyl, or composite. Blinds have an exceptional ability to prevent others from seeing into your home while still allowing sufficient daylight to illuminate your rooms.
A single twist of a wand allows you to tilt the blinds up, creating less space through which anyone can view the inside of your home. Turning the blinds down provides more brightness. Translucent blinds can diffuse sunlight, giving your interior a subtle glow while allowing those who pass by to see only shadows. Here are some other advantages of blinds:
Varying widths and configurations including vertical, which are ideal to cover very expansive windows

A wide variety of colors and patterns
Shades
Shades are soft window coverings made of one continuous panel of fabric and include a pulley system to allow you to raise or lower them. Additionally, shades come in a motorized option, providing several benefits. When you want more light in your home, you can raise them partially or completely. If you need privacy, you can let them down to prevent people outside your home from viewing the interior. Special light filtering shades allow natural light to permeate while providing privacy at night. While shades don't have adjustable slats, they come in materials that can filter light. Other benefits of shades include:
A variety of styles and customization options
Extremely wallet-friendly
Available in fabrics that keep the heat out and help you save money on electricity bills
Ready to let the light in?
So now that you understand which window treatments will allow you to bring more natural light into your home and preserve your family's privacy, let the experts at All About Blinds & Shutters help find the ideal window treatment for you!

All About Blinds & Shutters has been manufacturing, selling, and installing window treatments for Jacksonville homeowners since 1979. Our knowledgeable consultants are committed to customer satisfaction and can help you find the most beautiful, advanced window coverings to suit your home. Visit our 38,000 square foot showroom or contact us to schedule a free in-home estimate.