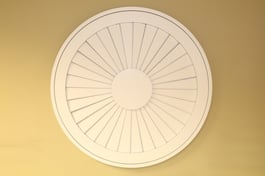 The cover of a house, its unique shape and size, and the beauty of its architecture are points of homeowners' pride. But what happens when the windows on your home prove to be more of a challenge than you bargained for? You fell in love with the sunburst arch when you toured the house; that specialty window shape is one of the reasons you bought it. But, just how should you cover it for necessary privacy? Read on to find out!
What is a Specialty-Shaped Window?
When one thinks of the word "window," a large, rectangular, or square block comes to mind, but in today's modern architectural world, we must think outside the box, literally! There is a multitude of unique designs that windows can have. Move over square and say hello to the arch, oval, octagon, circle, and hexagon, just to name a few. These untraditional shapes, while adding a special aesthetic to your house, are among the trickier windows to cover.
What is the Best Option for Covering a Specialty-Shaped Window?
The standard blind or window drapery simply won't cut it when dealing with specialty-shaped windows and that's because they literally aren't cut the right way. Those traditional window treatments aren't customizable; they are intended to strictly fit that rectangle or square shape.
Additionally, shades, like the honeycomb or fixed, are not as durable or versatile, frequently failing where one other does not. So, what cover is literally the best fit for specialty windows? Answer: shutters. No, not the shutters you see as decor on the facade of a house, but interior shutters, called plantation shutters. These work exceptionally well for your problematic, but much-loved sunburst arch.
What is a Plantation Shutter?
Plantation shutters are distinguishable by their wide, angled louvers, resembling the slats on blinds. But, blinds require a person to pull on a cord to open or close it. Plantation shutters are specialty-fitted to your window frame and do not rely on a pull-string to open; they simply open like a door.
Why are Plantation Shutters a Good Fit for Your Specialty-Shaped Window?
Aside from the advantages of offering privacy, heat reduction, and more natural light, plantation shutters are ideal for specialty-shaped windows for a variety of reasons, making one shudder (ba-dum ching!) when thinking of going with any other option.
Customizable and Decorative
Plantation shutters, like the quality ones offered at All About Blinds & Shutters, are made to fit your exact window dimensions, down to the most ornate curve and smallest margin. DIYers often unintentionally create gaps on the shutters, sticky louvers, or misaligned hinges. Professionally crafted shutters, however, will snugly fit your window frame, with special attention paid to slat length and size. It will offer ideal, long-lasting coverage for your specialty-shaped window.
In addition to having an excellent fit, plantation shutters offer excellent aesthetic quality as well. Specialty-shaped windows already have a curb-appeal value to them, so you don't want to cover it with an eyesore that will detract away from it. Plantation shutters have an old-world charm to them, emanating a sophisticated style that will enhance the uniqueness of your already unique window. They also match a variety of room decor, with personalized color and finishing options.
Durable and Maintainable
Plantation shutters offer a level of durability that is simply unmatched with blinds or drapes. Traditionally made out of wood or a solid polymer material, plantation shutters are sturdy and long-lasting. In fact, they are so permanent that they add resale value to your home because they are considered a fixed part of the house. Specialty-shaped windows should be forever protected and plantation shutters will enable you to do so with ease and grace.
Luckily, maintaining the charming aesthetic of your shutters is simple. Routinely clean your shutters with a dampened, soft cloth, making sure to avoid using any ammonia or bleach. It may be surprising that your specialty-shaped window cover doesn't need any special cleaning treatment, but that's why plantation shutters are a good fit.
All About Blinds & Shutters: A Good Fit
Decade after decade, All About Blinds & Shutters has been the premier blind and shutter factory in Jacksonville. We don't judge a house by its cover, we see beauty in all windows, and we embrace all shapes and sizes, even those of ovals, hexagons, and sunburst arches. Request a free estimate today and fall in love with your home all over again.