There is a vast array of window treatments that a homeowner can choose from when revamping their interior décor. These range from the extravagant, such as flowing drapes reminiscent of Niagara Falls, to, well, the minimalist extreme of nothing at all. Today's trend leans more towards simple yet sophisticated window treatments that provide convenience and durability.
There is no window treatment more representative of that simple, sophisticated sensibility than shades. They provide numerous benefits including:
Exceptional light control
Superior temperature regulation and energy efficiency
Improved privacy
Enhanced view
Increased convenience
Elimination of hazardous cords
Minimal upkeep and maintenance
Honeycomb shades and Roman shades are highly popular and are a fan fave of many interior designers, mainly owing to their unique benefits. When buying window treatments, it can be difficult choosing between these two types of shades. To help you make a more informed decision, let's take a closer look:
Honeycomb Shades

Honeycomb shades are extremely versatile. They are designed with insulating cellular shades that allow you to stay warm during winter and cool during summertime. These stellar shades are loved for their tight gathers when they are raised; a feature which allows you to have an unobstructed view of the outside scenery. Honeycomb shades also come in specialty shapes for different applications. Their opacity levels vary from light filtering, which provides privacy and softens light, to blackout, which provides total privacy and darkness (great for getting good sleep!).
You can choose from three basic design configurations for this type of shade: single cells, double cells and triple cells. You can also choose from a variety of adjustment options such as the super-safe cordless system, a motorized hands-free option, "top down bottom up" (which allows you to gain independent control of your shades' top and bottom), or the continuous cord loop which is ideal for lifting heavier shades. Honeycomb shades are made of fabrics that come in nearly every color, so they can complement a wide variety of palettes and styles. They are also typically anti-static and anti-dust, so they resist dirt and dust and require infrequent cleanings.
Roman Shades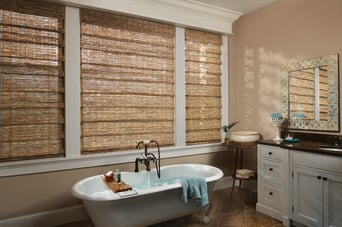 Roman shades are designed to neatly fold to the top every time the shade is drawn open. They are available in two basic designs: the classic flat design with no folds in the lowered position and the teardrop design that secures the fold into place when the Roman shade is lowered. There are different fold sizes ranging from 3-foot to 9-foot sizes. Adjustment options include the "top down bottom up," and the continuous cord loop. Roman shades are simple to clean with the brush attachment of a vacuum or a microfiber cloth. The primary differentiator between honeycomb cellular shades and Roman shades is the choice of materials. While honeycomb are only offered in fabric, Roman shades can be fabric or woven woods, allowing for more options as far as textures and hues.
All About Blinds & Shutters is your leading local window treatment manufacturer. Stop by our showroom and get a firsthand look at our custom shades, or visit our website to view our product gallery or schedule a free in-home estimate of your project from one of our experienced consultants!