What are roller shades?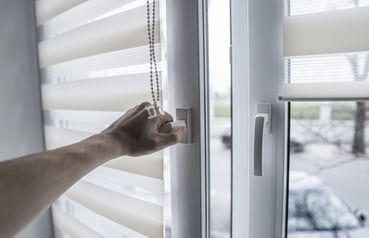 Roller shades are made of continuous panels of flat fabric or vinyl without pleats that roll up and down to cover a window. Roller shades have existed in some iteration for centuries, yet they remain a practical, attractive, and budget-friendly window treatment option for homeowners today. Shades were popular in the early days of the United States and featured painted designs and even landscapes that could be viewed by those outside of the house as well as inside the house. Made out of fabric or paper, these shades were anchored in place by strings or loops which were wound around a cleat on the wall. It was in the 19th century when these window treatments became popular by Stewart Hartshorn, who patented and. subsequently manufactured the roller shade, paving way for their commercial use today.
Needless to say, we have come a long way since the early days of roller shades, both in the wealth of colors and materials available. There are also various options for raising and lowering them, such as pulley and motorized systems.
Advantages of roller shades:
Budget-friendly:
Roller shades are a cost-effective window treatment that can complement your room's aesthetic.

Because shades can block light, you can also save money on air conditioning bills, an advantage especially appreciated by residents of sunny Jacksonville.
Practical:
These shades are practical because they are extremely easy to clean. If they are made from vinyl, simply wipe with a damp sponge occasionally. If they are made from fabric, you can use the brush attachment on your vacuum cleaner to keep them dust free.
If you have small children or pets and are concerned about safety, you can opt for cordless shades or motorized shades operated by a remote control, wall switch, or even your smartphone.
Remote control operated roller shades are perfect for hard-to-reach windows, such as over a foyer or behind a bathtub. You can even program the shades to raise or lower automatically at various times of the day so that you don't have to remember.
Depending on the thickness and opacity of the fabric you choose, you can have complete privacy.
At

All About Blinds and Shutters

, we have special light filtering shades that can allow as much natural light to permeate as you wish. Screen shades can shield your home from direct sunlight while still allowing a certain amount of natural light in. You can choose your opacity level -- anything from sheer to opaque. If you work at night, have a new baby, or simply don't want to wake up at 6:45 a.m. on summer weekends,

blackout

shades can be lifesavers.
Attractive:
Vinyl roller shades are attractive and modern, but high-end fabric roller shades are being used more and more in contemporary homes and businesses. They do cost more than vinyl shades, but many people love the options provided by specialty materials.
As well as being able to customize fabrics, patterns, and colors, you may also be able to style your roller shade window treatment with a cornice or valance.
Other customizable options for your window shadings include Hunter Douglas designer fabrics and window treatments. Hunter Douglas offers the latest trends in window treatments, and also energy efficiency in dressing your windows, to increase your home's green quotient. They offer customized solutions for everyone to suit their needs.
Considerations to take into account when choosing roller shades:
Measurements are important with roller shades. Also, you will need to decide if you want the shades mounted within the window frame or outside of it. The first way will allow a few cracks of light in and have a minimum depth requirement, so if you want to be able to block out the entire window, have the shades installed the second way.
Do your windows face east or west? Consider how you feel about the morning and afternoon sun and which level of light filtering shade you need.
Are you putting shades on windows that face the street? If so, you may wish to consider how they look to passers-by outside.
Color is important when you incorporate shades into your home's style. For example, are your shades providing the light accents in a room of rich and dark gem tones? If so, plain white is not your only option, as we have several shades of off-white that can still provide a neutral hue to pull the room together.
Do your walls have warm or cool undertones that should be considered? The colors of your shades need to fit in with more than just your furniture. If you are choosing shades for a kitchen, give thought to the colors of your appliances as opposed to your linens and dish towels. The appliances will be around for a long time, while the other things can be switched out periodically.
Roller shades could be the attractive, practical, and budget-friendly window treatment option that suits you best. Contact us today for more information.