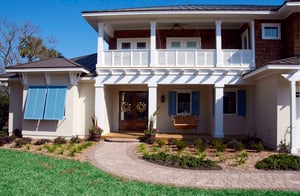 Trendy, functional, and always in style, exterior shutters remain a gorgeous accent to the outside of your home! If you want a timeless aesthetic and distinct curb appeal, these window treatments will always fit the bill.
Exterior shutters are also functional for Jacksonville residents who want an extra layer of protection against the sun, the heat, and rain that often blow in during summer time. While considering your options for your windows, don't just think about what you will put inside your home. The outside deserves attention, too!
Exterior Shutters: Window Treatments that Withstand the Test of Time
Shutters go all the way back to ancient Greece as a way to control light, heat, and privacy. Homeowners in Victorian England enjoyed them as a way to offer themselves some peace and quiet. We have loved exterior shutters for hundreds of years. They are truly a timeless classic when it comes to styling any home!
Exterior Shutters for Florida's Mercurial Climate
Aluminum and polymer shutters provide the classic beauty of exterior shutters, while also providing optimal durability in the face of sun, wind and rain. They are the choices that best withstand Florida's (often unpredictable) climate.
Additional Benefits of Exterior Shutters
These window treatments also help outside of Florida's summer storm season. When closed, they block the sun's rays and help maintain the temperature you want inside of your home. Whether it's summer's heat or winter's chill, exterior shutters can help lower your energy bills.
Some homeowners want exterior shutters purely for the aesthetic appeal without worrying about functionality. Beautiful and durable aluminum and polymer exterior shutters are also an excellent choice for anyone who wants to customize the look of their house!
All About Blinds & Shutters Has Your Windows Covered
Summer heat has arrived, and storm season is not far behind. Exterior shutters can help you keep your cool this summer, as well as provide another layer of protection against rain and high winds. Contact All About Blinds & Shutters today for more information!