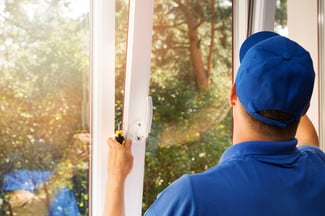 Today's bedrooms are not just for sleeping anymore. With space at a premium, your bedroom maybe more of a multipurpose room where you work, exercise, relax with a movie or book, in addition to sleeping. So, your window treatments should also reflect the versatility of this room, but still abide by the need to control light to avoid interfering with your sleep.
Importance of Controlling Light for Better Sleep
Scientists and sleep experts know the importance of controlling the amount of light that enters your bedroom. When light begins to fade at the end of the day, your brain takes this as a signal to begin increasing the level of melatonin in your bloodstream. This burst of melatonin helps decrease your body temperature, which helps promote sleep. However, the slightest bit of light can throw this natural process off-track and make your body think it's time to be awake.
Since the main purpose of your bedroom is for sleeping, the window treatments you choose should have the ability to block light. While this seems like a paradox, there are different types of shades that will work well in a bedroom that has multiple uses and needs for light reduction.
What's Old is New Again
For years, fabric roller shades have been a go-to window treatment for blocking light. But today, you have so many more stylish options to choose from. Between various levels of room darkening fabrics, you can block light in style. Typically, roller shades are mounted inside the window, so their width is trimmed to facilitate smooth operation. This could allow a sliver of light on either side of the shade to seep in through the thin gaps. To get the most out of your roller shades, you should opt for shades that are wide enough to be outside mounted.
Versatile Honeycomb Shades
A great option for a bedroom that is also used as an office or exercise area is the honeycomb shade. Depending on the options you choose, honeycomb shades can filter or block light, while giving you the privacy you want in your bedroom. An added benefit is that they have an attractive appearance whether you are viewing them from inside or outside your home, which is great for maintaining curb appeal.
Room Dimming Shades
If you don't have a problem with light entering your bedroom at night but want to filter daylight and maintain privacy, you have multiple choices for shadings. Solar Screen, Luminette Privacy or Silhouette shades filter light and provide privacy, but don't provide complete darkness when closed. This could be a good solution when using your bedroom as an exercise room during the day.
Whether you want window treatments for privacy or to filter or prevent light from coming in your bedroom windows, All About Blinds & Shutters has a wide variety to choose from to suit your needs.