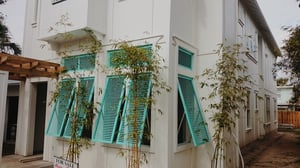 Before glass was the norm for window openings, we had shutters. Shutters offered protection from heat in the summer and cold in the winter, as well as privacy. Now that we have advanced window technology like triple-paned glass, shutters are used less for window protection and more for decoration.
Since exterior shutters primarily serve as a design element, they can play a major part when you're working to boost curb appeal. It's important to factor in these features when it comes to selecting exterior shutters: Proper sizing, installation, and design. Use this guide to learn more about choosing the right shutters to enhance your home.
Understand Your Home's Style
It is important to take into account your home's architectural style when choosing your shutters. For example, if you have a traditional style home, you'll likely want a traditional louvered shutter style. An operable style of a louvered shutter can be used to provide rain protection as well.
For a more modern look, you may want to go with solid panel and raised panel designs. These styles feature multiple panels to give your exterior more texture and vibrancy. Often finished in bold, bright colors or darker colors, they can be either dramatic or understated depending on the rest of the exterior of your home.
Yet other options include board and batten or Bermuda-style shutters. These are ideal for rustic and beach-inspired spaces. They also offer some protection from the sun.
Make sure your shutter style doesn't clash with your home's architecture in order to create a cohesive exterior design.
Pick a Durable Material
Style matters when it comes to exterior shutters, but so does durability. The materials you choose need to match your lifestyle and account for environmental factors - unless, of course, you want to replace them every other year. If you're looking for long-term durability, aluminum and Poly materials are top choices.
Best of all, they come in a wide range of finishes and styles that can mimic more traditional wooden shutters. While they might be modern materials, they can work with traditional, transitional, and contemporary homes.
Choose Your Size Wisely
Exterior shutters won't look their best or perform if they're not properly sized to your windows. This means that your shutters should mirror your window and the rail should align with the transom, lock rail, or muntin. Unsure what these terms refer to?
That's because in order to get the proper fit, your windows should be measured carefully and shutters should be installed - both by a professional. With the right style, materials and professional sizing, you can add exterior shutters that look like a million bucks without breaking the bank.
Exterior shutters can help protect your interior from UV rays, filter light, add style to your façade and help turn a house into a home. Reach out to All About Blinds & Shutters to learn more about our selection of high-quality shutters for every home style.