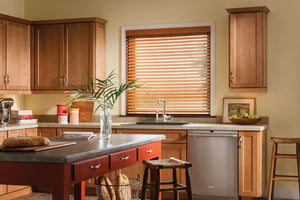 The number of window treatments available can be overwhelming. If you are in search of a window treatment that is both functional and attractive, blinds could be the answer you are looking for. However, you will also be faced with a wide variety of styles and materials to choose that could seem overwhelming. Here is a primer on what you should know when choosing a blind type for your windows or even doors in your home:
Wood Slatted
The look of a wood blind is a classic look for your windows. Made with wood from sustainable sources, real wood blinds provide an upscale look that adds warmth your room. They are great for privacy and for protecting your furniture and décor from the harsh sun. Because natural wood slats are lightweight, they are great for any sized window, including oversized windows. You will need to be careful when cleaning a wood blind and will need to use special cleaners to prevent damaging your slats.
Faux Wood
If you enjoy the look of wood, but you do not want to commit to the extra care needed, or have a limited budget, faux wood is an excellent alternative. You can still choose from natural-looking wood stains, white or more modern color choices, including gray or yellow. Faux wood is a more budget-friendly and low-maintenance option for window treatments than wood is. This type of blind can be made entirely of PVC/vinyl material or with a wood core that has been coated with a composite wood material. The faux wood slats will not fade, crack or warp, which make these blinds great for:
High traffic areas

Humid climates like Jacksonville's

Rooms like your bathrooms or kitchen
A faux wood blind is also easy to clean with common household cleaners without fear of damage, unlike real wood. Due to the weight of the material, this type of blind is more suited to smaller windows instead of oversized windows.
Motorized Blinds
Motorized blinds are a great option for those looking for more precise control over the natural light coming into their homes. Motorized blinds use the Tilt Motor, which controls the rotation of wood or faux wood blinds' slats; it is very easy to operate and convenient since it is 100% wireless. With the Tilt Motor, you can adjust slat positioning effortlessly for precise control over natural light, similar to a dimmer.
The experts at All About Blinds & Shutters know how overwhelming it can be trying to choose from all the types of windows treatments available. We are ready to assist you with choosing the perfect window treatment for your home and your lifestyle. Call to schedule your free in-home estimate today.