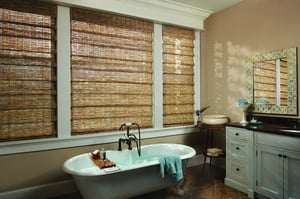 With all the money, time and effort put into making your house a home, there is no room for mistakes, especially when shopping for window treatments. When mistakes are made, the look you were going for can be ruined. Meanwhile, you may end up spending more time and money trying to fix the mistake. Here are a few of the most common mistakes people make when choosing window treatments.
Incorrect Measurements
Let's start with the most obvious mistake. There is nothing worse than ordering window treatments, getting them home, and then finding out they do not fit your windows. Depending on the window treatment, you may need to measure different parts of your window. For some you might need to measure the window frame and surrounding trim, while others you will measure the window's glass. Maybe you have a window that is not square or rectangular. Specialty shaped, or sized windows can be difficult to accurately measure. Your best bet is to have an in-home estimate where the estimator will accurately measure your windows.
Selecting the Wrong Materials
You might have your mind set on a certain type of window treatment or material used to make it. And this is usually because you might have seen it on display or on a home design show. But not all window treatments and materials are meant to be used in all rooms or climates. Putting wood blinds or shutters in a humid room like your bathroom could be a mistake because the wood can become damaged from the steam of your shower. You may be able to get a similar look in a faux wood blind that is more moisture-friendly. It is important to keep an open mind when shopping for window treatments and talk to your sales representative about the room and environment where they will be installed. They may be able to offer you alternatives that would be more suited to the environmental factors of your home.
Not Seeing How Window Treatments Look in Your Home
The advantage of having an in-home consultation is that you get to see samples of the products in your home before you commit to buying them. After all, you wouldn't paint your home without bringing home paint swatches first to see how the color will look in your home, right? It is nice to see window treatments in the showroom, but viewing them in your home gives you a more accurate picture of how they will work with the design of your room.
Shopping for your blinds at All About Blinds & Shutters can help you avoid mistakes. We have one of the Southeast's largest and most extensive showrooms where you can view a wide variety of window treatments. You can also choose to have one of our experts come to your home for a free in-home estimate.