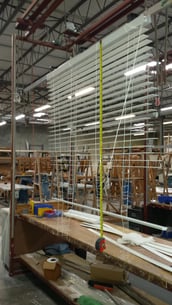 Did you know All About Blinds & Shutters is Jacksonville's most complete blind and shutter factory? Housed in a 35,000 square foot facility, we fabricate blinds, shutters, shades, retractable screens and customized closets. If you have yet to visit the factory and showroom, here's a look inside our humble abode to give you an idea of what all goes on behind the scenes of Jacksonville's favorite window treatment retailer.
Horizontal Blinds
Although Plantation Shutters are the most popular, Blinds are the biggest seller. Blinds are more cost efficient than other window treatments (as much as 4 - 5 times less expensive than Plantation Shutters). On average, horizontal blinds cost about $80 - $100 per window. While the idea of blinds may seem outdated to some, Hunter Douglas, Graber, Norman and Vista all offer blind options that are timeless. Pictured below, you'll see how the 2 inch louvers have been inserted into the ladder strings hanging from the metal head rail. Our technicians treat each order with the utmost care and precision that we have prided ourselves on for decades.
Vertical Blinds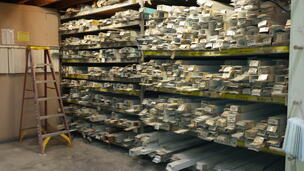 Vertical blinds were extremely popular in the 80's but are now mostly used on sliding glass doors. These blinds are created from PVC materials or Fabrics. PVC materials have come a long way from being a plain flat piece of plastic….they are now textured and designed to look just like fabric while maintaining the durability and ease of care of plastic. While there are otherhoices for sliding glass door treatments, vertical blinds are very easy to maintain and significantly less expensive than sliding panels, honeycomb shades, and plantation shutters. At All About Blinds & Shutters, we make about 25 sets of vertical blinds on a weekly basis. We also try to keep excess louver material on hand. This way if you ever need a louver replaced, chances are we might still have some of the material that we provided years ago.
Screen Shades
Screen shades are a very popular product. Many business owners and restaurants choose screen shades over all other window treatments because they are thin enough to see through, but just thick enough to block out some of the sunlight and provide some insulation. Our screen shades are cut with a sonic cutter. Unlike other window treatment facilities, this machinery uses a double pointed Sonic cutter, instead of spinning blades or knives, to cut the pieces resulting in non-tattered, clean edges. Pictured are woven wood shades which are serviced - not made - in our factory.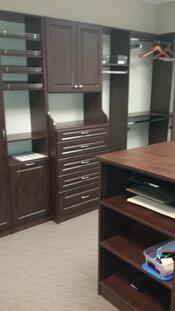 Customized Closets
One of our up-and-coming services is closet customization which has only been around for a few years. Before beginning your custom closet project, it must first be determined what your needs are: more hanging space, added shelves, etc. We help customers design and install their dream closets with the use of computer aided 3D visuals. Once you have an idea of what you want added into your closet, we upload your visions into our system so you can see exactly what your new space would look like. We'll email you a link of your design plan where you will have the ability to "Virtually" use your closet on screen by opening doors, pulling out drawers and rotating the image to ensure the customized space will be functional, too.
Plantation Shutters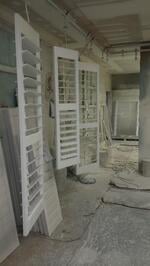 Plantation Shutters are by far the most popular product. We offer both Wood Plantation Shutters and Polymer Plantation Shutters. The Shutter plant, which literally takes up half of the entire facility, is a sea of equipment specifically designed to build shutters. From the hands on equipment to the automated equipment, all pieces come together to make a beautifully constructed shutter panel. Upon creation, the shutters are hung in the paint room where they are coated with a VOC neutral finish. Many finish coats used today contain Volatile Organic Compounds that could offgas dangerous chemicals into the home. Our paint finish is a water based paint that is VOC neutral, meaning there are no dangerous chemicals in our finish. Not only is the finish 100% safe, but it is washable and U.V. resistant to color change. One of the last steps of the shutter production is the frame. Many of the shutters we build are framed with a decorative moulding that really completes the look of the shutter.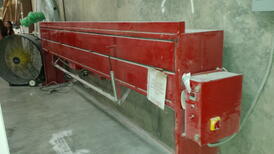 One of the great things about shutters is that they are one of the best window treatments for specialty shaped windows. In our factory, we use a 16' long oven to create frames for specialty shaped windows. The polymer frame is placed into the oven where it's heated to 250 degrees.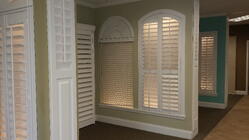 Whether it's the Polymer Shutter or the Wood Shutter, both are completely built in the U.S. and all parts for our shutters are sourced domestically. Our Polymer material is not a mix of mystery material nor is it made out of MDF (medium density fiberboard) which contains formaldehyde. All About Blinds Polymer shutters are made out of a 100% PVC foam material which is non hazardous and a completely safe option for your home. Our Wood shutters are made out of a North American Hardwood that is milled using a special process called Reverse Grain Lamination. Given the very diverse weather conditions that are seen in Jacksonville over the course of a year (Hot, Humid, Cold, Dry), it's important to invest in a product that can handle the environment. The reverse grain lamination process results in a wood shutter that is incredibly strong and resistant to warpage. It also allows us to build single shutter panels up to 50" wide which offer outstanding ability to enjoy the view outside. When the material is heated it can be shaped into any form - ovals, octagons, half circles, etc.
Motorized Window Treatments
Many of our customers are beginning to invest in motorization capabilities. Motorized window treatments are best used for hard to reach windows but they can be a very convenient option for any window. Customers have the option of choosing between battery powered or hardwired window treatments. While the battery powered is the inexpensive option, it's much noisier than the hardwired and it cannot be used on larger treatments. Hardwired is the more desirable choice in motorization but sometimes requires the help of a licensed electrician. All About Blinds stocks many of these motors and can include them on many of the shades that are built in their factory. In the showroom, customers can see and hear the differences in these motors in order to help them make a choice that will best suit their needs.
Retractable Screen Doors
A great addition to any Jacksonville home during spring, fall and mild winter months are retractable screen doors. If you want get some fresh air into your home and prevent pests from coming in, a retractable screen may be a good investment for you. At All About Blinds & Shutters, we install 2-3 of these additions per week.
Some things you just have to see for yourself … and All About Blinds & Shutters is one of those things. Contact us today if you are ready for a tour or if you want to set up a free consultation.