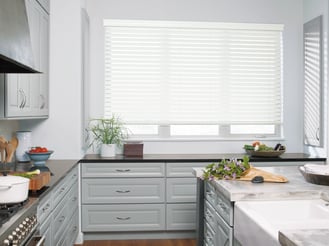 Owning or renting a coastal home has many benefits, but it also comes with unique design challenges. Coastal homes have distinct styles and are located in areas that require extra protection and care from humidity and high winds. Though not a substitute for hurricane shutters, you can be confident that your home will be stylish and protected during those summer storms.
It's crucial that you find the right window treatment to bring out the best in your coastal home. Here are a few window treatment ideas that can make your beautiful home even better.
Exterior Polymer Plantation Shutters
Exterior polymer plantation shutters can benefit your coastal home in a variety of ways. Because they're made from faux wood, these shutters can stand up to high humidity and a moist climate. Polymer can withstand heavy rainfall and wind without significant damage, and they are also resistant to mildew and corrosion. They are also extremely easy to clean to avoid any unwanted dust, dirt, or mildew build-up.
In addition to its durable material, Polymer plantation shutters also provide coastal homeowners with much-needed privacy. Shutters won't allow anyone to look in your home when you don't want them to. The tilting panels offer different ranges of privacy depending on your needs, and when you're ready to see out into the world, the shutter panels open easily so that you can enjoy your gorgeous coastal view.
exterior Solar Screen Shades
Coastal homes require protection from heat and sunlight. Overexposure to the sun can make your home uncomfortably hot and raise your electricity bill to an exorbitant amount. Interior solar screen shades help cool your home while also allowing you to have a great view of the outdoors.
Solar screen shades can come in light fabrics, dark fabrics, and reflective high-performance fabrics, all of which provide different degrees of protection from the sun and outdoor visibility. Light-colored solar shades allow more light to enter your home.
Dark-colored shades absorb more heat and will allow less light to enter your home. Having a reflective high-performance fabric on the exterior of your solar screen shades provides the most heat resistance, but it will not allow much light to enter your home.
exterior Aluminum Shutters
Exterior aluminum shutters are durable and can handle most coastal weather conditions. Obtaining high-quality shutters, like aluminum, will increase your window treatment's longevity and keep it from being torn up by high winds. Their durability allows them to also withstand high humidity and moisture as well, however, oxidation can occur if the home is near saltwater and would need to be washed off with fresh water on a regular basis to be maintained.
Aluminum shutters are also incredibly stylish and will increase your coastal home's curbside appeal. They come in a variety of shapes and sizes to perfectly accentuate your coastal home's style.
Choosing What's Right For Your Home
As always, knowing how to choose the best window treatment for your coastal home can be a challenging task, but we have you covered! Our team at All About Blinds can make recommendations for you to find the perfect fit for your style and needs.
Our showroom is full of great ideas for your coastal home, and our website has a growing catalog of high-quality and stylish choices. You can also schedule a free in-home consultation so that we can find you a window treatment that will make your beautiful home even better. Be sure to ask your window specialist which product will work best in your home to ensure the desired durability and style!