The new year is finally h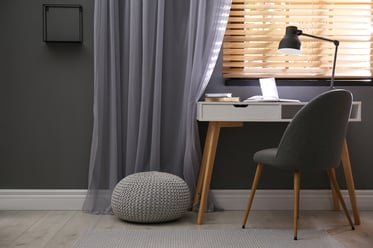 ere, and it's time to start thinking about how to redecorate your home in 2022. Though there's no wrong place to start, there's no better way to usher in the new year than to update your home's blinds. Your windows frame the mood for your room, and updating your blinds can change the entire atmosphere. Here are some trends for redesigning your curtains and blinds in 2022, as well as some tips for how to pick the right set for you.
Design for Function
Before even choosing blinds or a color scheme, consider how different blinds will interact with a room. The function of the room will help dictate which kind of blinds or curtains you should settle on. For example, your kitchen requires curtains that are both functional and safe and unlikely to become a hazard while cooking. Here, cotton and linen curtains offer extra durability, while blinds are more practical and safe around stoves and ovens.
On the other hand, a bedroom's comfy and intimate space requires something simple and unobtrusive — a perfect fit for classic curtains with tulle to create softer lighting. In contrast, your living room has different needs from both your kitchen and your bedroom. In this heavily trafficked space, keeping designs minimalistic and adopting natural and earth colors will help breathe new life into the room.
Color by Theme
2022 is shaping up to be a year aesthetically defined by simple and functional designs. So when picking out colors for your blinds or curtains, consider embracing soft and organic tones. These are our picks for your curtains in the new year.
Neutral Tones
Neutral tones, like beige or eggshell, naturally create a soft effect in a room. Similarly, natural hues like green or light brown make a room feel more natural and organic, which also makes a room more soothing and makes brighter colors pop more dramatically.
White
The classic design of white blinds fits easily into almost any room. Similarly, thick white curtains keep light blocked while complimenting almost any color scheme, and thin or translucent white curtains diffuse light to make rooms feel brighter and cozier.
Graphite
Both bold and stylish, graphite offers a more nuanced and sophisticated look for your interiors. Graphite is trending as a color for combinations, as pairing it with brighter, more saturated colors makes accents more dramatic.
Choose the Right Style for the Space
While there's no singular design choice that's right for your home, there are several trends that we've seen come back into vogue for 2022 that can shape how you redecorate. Here are the curtain designs we think will fit your home in the new year:
Roman Blinds
All about form and function as aesthetic, Roman blinds take up little space. Designed from cotton, jute, or linen, these blinds are designed to layer on top of each other for maximum space efficiency. These blinds look great in busy environments like personal studies or kitchens.
Wood Blinds
Popular for their warmth and natural feel, wooden blinds are a great choice for rooms in the home that are more intimate. Install these into your bedroom and living room for a more organic aesthetic.
Vertical Blinds
Vertical blinds are known for their professional design, but they also fit well into living rooms and bedrooms. They also come in a variety of styles and materials, ranging from fabric to PVC to silk. With such a wide array of design options, vertical blinds are the perfect fit for your home.
Screen Shades
Both stylish and space-efficient, screen shades keep you protected from the sun without sacrificing your view of the outdoors. With varying levels of opacity and a durable design, these shades fit in well anywhere in your home.
If you're ready to update your blinds for 2022, reach out to All About Blinds & Shutters today. Since 1979, we've been helping Jacksonville, Florida meet all of its curtain and shutter needs. Reach out to us today, and let us know what we can do for you!