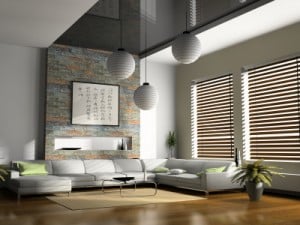 Window shades and blinds are an integral part of your home décor and they not only add aesthetic value to your home, but are also hugely functional. They are easier to operate, clean and maintain than regular fabric curtains. They also offer dimmed or diffused lighting which can fill your rooms with a warm glow and not harsh light. They come in horizontal or vertical shadings, and can be rolled up or pushed to the sides like regular curtains. Whether you choose horizontal or vertical shadings, they offer semi-sheer, translucent and light-dimming functions just like regular curtains.
The shades or blinds you use should add aesthetically to your home. Whether you choose regular fabric curtains for your drapery, or some different combination of wood and poly shutters, wood and faux blinds or Roller shades apart from customized designer window treatments, it should complement your décor to be pleasing to the eye. It should also be functional, useful and practical.
There are three main models of window shadings, namely Pirouette, Silhouette and Luminette.
Pirouette: As the name indicates, it offers unmatched flexibility and control options which can be mixed in different combinations to protect your expensive furnishings, wall arts, carpets, leather sofas and other curios. The Pirouette range comes in 4" or 5" folds and offers multiple options for controlling the light that enters your rooms. The range offers the choices of white knit polyester or woven polyester for your shades. These blinds offer great customization to protect your expensive furnishings and art work from ultra violet damage.
Silhouette: The Silhouette range is available in eight different fabrics and combinations, and is available in 2", 3" or 4" vane sizes. The distinctive features of the Silhouette range are, as the name indicates, specialized shapes to fit any room, motorized controls that offer brilliant combinations for controlling the shadings, and hands free operation. The sheer fabric louver prevents 99% of ultraviolet damage to your fine upholstery fabrics, art work and rugs and carpets. This range is also available in white knit polyester and woven polyester.
Luminette: The Luminette range, as the name indicates is most suitable for large windows or a row of windows or glass walls. Just like the other two shadings, this range too prevents 99% of ultraviolet damage to your precious furniture and fittings, art work and carpets. The range is available in seven different fabrics and in 3 ½" and 4 ¾" vane sizes. So there are plenty of fabric and vane combinations to suit any room size or window needs. The Luminette range offers custom lighting control, and hence the name. It is available in sheer polyester and is ideal for a studio or a sun room, which is meant to be full of light and air.
Other customizable options for your window shadings include Hunter Douglas designer fabrics and window treatments. Hunter Douglas offers the latest trends in window treatments, and also energy efficiency in dressing your windows, to increase your home's green quotient. They offer customized solutions for everyone, to suit their needs, like reducing light if you work nights or reducing noise if you live near the airport or a railway track.
At All about Blinds & Shutters, we know the importance of having your décor suit your aesthetics. We offer diffused lighting and sheer, translucent fabric opacity that offer unmatched looks and practical advantages, like 99% ultraviolet ray prevention, which will protect your fine fabric upholstery, art work and carpets from damage. We have been in the business of window treatments since 1979. Our 38,000 square foot factory has one of the largest displays of window treatment options. Our staff members are each well trained and have a minimum of 15 years' experience in the field so you can trust All About Blinds to take care of your window treatments. Call us today for a free, in-home, no-obligation consultation.