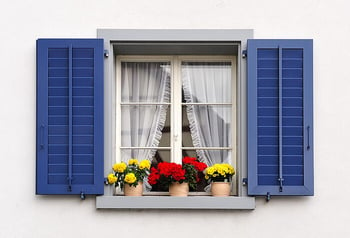 Choosing window treatments is a big decision that can become overwhelming fast. There are so many options, how do you know what's right for you? In our many years of experience, we've learned that there are a few key points to consider when deciding: style, privacy, light filtering and energy saving capabilities. Read on to learn more.
Types of Window Treatments
It's easiest to make decisions when you know what you have to work with. Window treatments come in several categories:
Shutters – Classic hinged window coverings that maintain huge popularity.
Shades – Versatile and multifunctional. Includes styles such as Roman, roller, woven, and honeycomb or cellular.
Blinds – Long slats that span the width of a window. Can either be vertical or horizontal. These remain popular and economical.
Transitional Shades – These hybrid styles mimic the functionality of multiple types of window treatment, such as both blinds and shades.
Considerations When Choosing a Window Treatment for Your Home
Selecting the window covering that's right for you requires choosing the style that brings out your inner interior designer as well as finding a functional option for every window. Here are some things you should think about when you begin your search for the perfect window treatment.
What kind of light control do you need? For some rooms, you may want nothing more than a bit of privacy and filtering for the brightest daylight. Light or transitional shades, or blinds may give you what you hope for. If you prefer a full blackout look, heavy shades or well-fitted shutters are great choices.
What kind of accessibility do you need to the window? If your windows are in hard-to-reach areas, adjusting those window treatments will be a challenge. For these, you may want to consider motorized shades as a window treatment option.
Who lives in the room primarily? For a child's room, selecting a window treatment without cords is a good choice for safety. Shutters or cordless blinds may suit best.
Does this window have a beautiful view worth preserving? If you have a gorgeous vista just outside your window, you don't want to block it with a heavy window treatment, like thick curtains. Honeycomb or cellular shades are known for their low profile when retracted and can enhance a view rather than block it.
How much energy efficiency does this room require? A bright summer sun can heat up a room through even a closed window. Your window treatments can keep the heat outside where it belongs. Shutters, blinds, and honeycomb shades are all terrific options for energy savings.
What's your design style? While it may seem like it should be the first question on the list, homeowners are often surprised to find that function can quickly take precedence over form when updating window treatments. Plus, most blinds, shades, and shutters can fit multiple interior design styles.
Need Assistance Sorting Your Window Treatment Choices? All About Blinds & Shutters Can Help!
Still not sure what window covering would suit your home best? Have questions about the latest technology in window treatments? We have answers. Contact All About Blinds & Shutters today for more information.