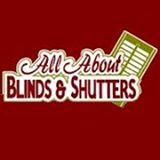 Aesthetically, blinds and shutters can add a whole different dimension to any space. However, aesthetics is not the only reason homeowners consider installing custom window treatments. Custom window treatments can add privacy to any space, protect your furnishings from the sun, keep your home cooler in the summer and warmer in the winter, and help you filter in beautiful natural light.

The team at All About Blinds & Shutters specialize in custom window treatments, helping you find the right solution for your home's needs. We offer a large range of products, from insulating shades to retractable screens. We're here to help you find the right custom window treatments for any space in your home.

Our full line of products include:

● Blinds - ­ We offer a range of blinds in aluminum, faux, wood, or vertical styles.

● Honeycomb Shades ­ - Honeycomb shades are great when you need a little more insulation on your windows. You can get these shades in any range from light filtering to blackout.

● Roman Shades - ­ For a designer look, roman shades are always a great choice. They are offered in different fold sizes to give a look that suits your space.
● Screen Shades­ - We offer two styles of screen shades, window shades or roman shades. Screen shade gives you the benefit of natural light while protecting your furnishings from the sun.

● Shutters - ­ Plantation shutters are aesthetically pleasing and can also add insulation and light control to your home's spaces.

● Woven Wood Shades - ­ All natural shades, woven wood shades offer the chance for homeowners to have a unique shade product, they come in a large range from semi­sheer to room darkening.

● Motorized Shades ­ - If you have hard-to-reach windows, motorized shades are a great solution. We offer a wide range of styles and choices.

● Shadings - ­ If you are looking to soften and diffuse light in a room, window shadings are a great choice. These blinds offer both good looks and performance.

No matter what shape or size windows you are looking to cover, we can help you find the right solution.

If you are not sure which style of window treatment would suit your home best or you would like to see a full range of options, our showroom is a great place to start. We offer one of the largest showrooms in the Southeast and have a full range of products. The best thing about our showroom is that you can see, feel and operate all of our window treatment products to see if they are the right solution, without any pressure.

We've been helping Jacksonvillians like you customize and update their window treatments for over 36 years now. Our team of professionals will come to your home, talk with you, and give you suggestions on what they feel is the right solution for your needs. This is all included in our Free In-­Home Estimate. If you have been putting off having custom blinds installed, contact us today and find out what solutions are available for your home's windows.