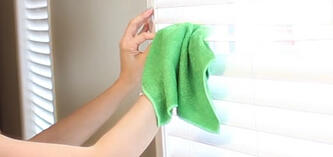 More time spent inside - between the cooler temperatures and quarantine - means winter is the perfect time to do a deep clean on your window treatments.
Washing blinds and shutters may seem like a tedious task, but with a few clever tricks you can do the job in no time at all! While you're at it, give your window panes a wipe and you'll have a much improved view. Grab an old sock, a dryer sheet, and/or a paintbrush, and read on!
Tips for Cleaning Blinds and Shutters
You'll only need a few household objects to make quick work of window cleaning. While specialized tools exist and can be useful for those who need to clean window treatments often, you can achieve the same results with items you already have.
An old sock placed over the hand like a puppet can be your best friend when it comes to cleaning blind and shutter slats. First, open your blinds or shutters so that they lie horizontally and are spaced evenly. Place the sock over your hand and run it between two slats. This cleans both sides at once. If your blinds are too small for your hands, a sock-covered ruler can work nicely.
A dryer sheet is perfect for both removing dust and preventing it from returning. Wipe down one side of your shutter or blind slats, flip them over, and clean the other side. This trick brings the added bonus of a faint, pleasant scent.
Need to brush away stubborn dirty spots on your blinds or shutters? Use a paint brush to scrub away stains and access nooks and crannies. If your window treatments are especially grimy, you may want to place a sheet or tarp beneath the window to catch falling dust.
Computer aficionados may have cans of compressed air sitting around for cleaning hardware components. Good news - you can use these for window cleaning, too! Just spray any dust with air to blow it away. This method does, however, require a thorough pass with a vacuum afterwards.
Shades can be cleaned gently with a vacuum with a brush attachment.
Eliminating Stubborn Dirt
Perhaps your vertical or fabric blinds have accumulated a great deal of dirt over time, or maybe they could just use an especially deep cleaning. You may be able to solve this problem with a bath. Fill a tub with a diluted concentration of a solution that is safe for the material and follow the manufacturer's guidelines for cleaning. Call a professional like All About Blinds & Shutters if you have questions! Once your blinds or shades have finished their soak, wipe them off and hang them up again. Window cleaning has never been quicker!
All About Blinds & Shutters Has the Answers You Need
Do you have questions about the safest, easiest ways to clean your blinds, shutters, or shades? Have you recently taken on a deep window cleaning project only to discover that you really need new treatments? All About Blinds & Shutters has the answers and knowledge you need when you're thinking about your windows. Contact us today!