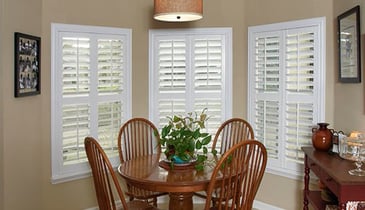 Are you looking for an exceptionally durable, aesthetically pleasing, and practical window covering for your Jacksonville home?
Plantation shutters, made of wide flat or elliptical louvers, are versatile enough to maintain your family's privacy and still allow natural light to brighten your interior. It is no surprise that this window treatment is one of the most popular on the market today.
The main difference between plantation shutters and traditional shutters is the width, as traditional shutters are usually only about 1 ¼ inches wide and plantation shutters are as wide as 5¼ inches. This gives them a modern, fresher appearance that complements any style of abode.
If you've decided that plantation shutters are the right choice for you, your next task is to choose a material; wood, composite wood, MDF, PVC, or polymer. Read on to learn more about the benefits of All About Blinds & Shutters' Lykewood, our premiere polymer shutter, and determine whether they're ideal for your home.
Versatile
Looking for choices? All About Blinds & Shutters' Lykewood shutters are available with a range of customization options including decorative moldings; a variety of hinges; 2 ½, 3 ½, and 5¼ inch louver widths; and an array of colors, including custom hues. We can manufacture your Lykewood shutters to fit any window configuration, regardless of their shape. If you prefer a more minimalistic, clean look that enhances the view through the louvers, we can mount hidden tilt rods on the back of the panel near the hinges.
Cost-effective
With our Lykewood shutters, you can expect the beauty, quality, and functionality of wood shutters with a more wallet-friendly price tag. In addition, polymer shutters increase your home value, allowing you to enhance your most important investment. Because our Lykewood shutters are exceptionally durable, they will last for decades.
Easy to maintain
Lykewood shutters are effortless to clean, so you won't have to spend a lot of time on upkeep. Simply use a dry rag or vacuum to remove all dust and surface dirt and then wipe down the louvers with a damp cloth. Open your windows to allow your shutters to dry or use a fan to remove surface water and prevent spots.
Energy efficient
Looking to save money on your energy bills? All plantation shutters are energy-efficient because the installation method helps prevent your home's air from escaping to the outdoors and prevents outside air from coming in. Polymer shutters are especially energy-efficient as they have heat-blocking properties that minimize interior chills during cold months and block heat during summer months.
Weather-resistant
Our Lykewood shutters are uniquely suited for Jacksonville's climate where summer temperatures average around 90 degrees, winters dip into a chilly 40 degrees, and humidity is omnipresent year-round.
Unlike wood, polymer is resistant to termites, moisture, UV rays, and changing temperatures. It won't peel, crack, warp, or fade under direct sunlight. In addition to their invulnerability to moisture, Lykewood shutters are resistant to mold and mildew, making them an especially effective choice for the windows in your home that are exposed to water, such as a bathroom with a shower.
Want to know more?
At All About Blinds & Shutters, we understand that choosing the right window covering can be daunting! That is why our knowledgeable consultants are committed to helping you find the ideal window treatment for your home. We've been manufacturing, selling, and installing window treatments for Jacksonville homeowners since 1979. Come visit our 38,000 square foot showroom to see our beautiful Lykewood shutters in person or contact us to schedule a free in-home estimate.