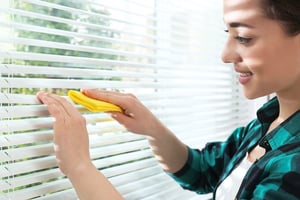 As you rev up the vacuum and pull out the mop bucket, consider also giving your blinds or shutters a thorough clean. You will reduce the allergens in the air and give your home a clean, polished look. Keep reading for the best ways to keep your blinds and shutters sparkling clean.
If it has been a while since you cleaned your blinds or shutters, lay a dirty sheet, a towel you intend to wash, or a sheet of newspaper beneath them. This collects the falling debris and cuts time on cleaning up after dusting.
A microfiber cloth or feather duster once a week goes a long way towards saving you more intensive labor later on. It just takes a few minutes, but that adds up to a healthy bank of time when you would rather spend your weekends having fun.
Run a dryer sheet along both sides of your blind or shutter slats. This helps cut down on the dust that will cling there.
A sock or dusting cloth wrapped around a ruler can help you clean narrow, thin blinds, or delicate metal blinds that are prone to bending.
Have guests on the way and dusty blinds? Socks will work in a pinch: Slip them on your hands and run each slat between them! If you would prefer not to use your socks, you can purchase handy microfiber mitts to use next time.
Check your vacuum cleaner. It may have a brush attachment you can use to clean your shutters and blinds. You can also use a vacuum attachment on the window ledges, too.
For regular cleaning, you can also utilize a cloth or towel moistened with dusting solution. Close your blinds or shutters, spray dusting solution onto the cloth, then wipe from side to side! Reverse the direction of the slats, and do the same to the other side.
Refreshing Your Window Aesthetic? Call All About Blinds & Shutters!
If you're thinking about refreshing your home with updated window treatments, contact All About Blinds & Shutters today! Our experts can help you find beautiful, easy-to-maintain window treatments to suit your lifestyle.