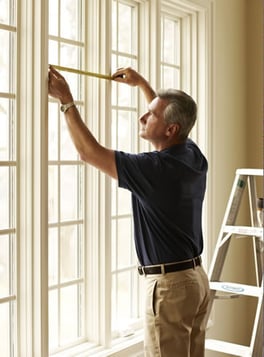 For most consumers in the market for new window treatments, quality is the first concern. Due diligence and careful research pay dividends in a product that will last for many trouble-free years, and in time saved through eliminating the need for repairs or replacements. Locating the lowest price may also factor into the choice. Yet there is one metric too many consumers overlook.
Customer service is an important factor in any purchase. Selecting a company who eagerly seeks to meet your needs and goes out of their way to make your life easier can add value to your investment. All About Blinds & Shutters prioritizes your needs and convenience as we work to find you the best window coverings for you at a price you can be happy about!
Customer Service - An Investment in Satisfaction
Home improvement projects have a lasting impact, whether in the value of the house or in your happiness with your home. We understand that when you contact us, you have chosen to entrust us with both the greatest investment of your life and with your family's contentment.
True customer service looks past the potential for a sale to save a valued customer an unnecessary expense, no matter how long ago the purchase was made. When one former customer called to inquire about necessary repairs on blinds she had purchased from us several years prior, All About Blinds & Shutters was able to give her unexpected good news. The blinds she had chosen carried a lifetime warranty, and she didn't need to pay for repairs after all. We were able to perform a free fix to restore her window coverings to a good-as-new status.
Saving our customers money is as important to us as it is to them!
Convenience and Service You Can Count On
All About Blinds & Shutters has the expertise to complete potentially tricky jobs without any inconvenience to you. One of our customers purchased a home built with the solid block construction that can endure the heavy inclement weather of the region. This material can pose a challenge even for professionals. We were able to offer him an installation he could rely on without the stress of overcoming this challenge himself.
Hiring a company to do the work for you comes with its own set of complications. We understand the efforts you must make to set appointments, arrange to be present for installations, and concern about having strangers in your home. Our respect for your time has earned us compliments for our speed, friendliness, and cleanliness!
In the market for new window treatments, or in search of someone who can repair your current ones? See for yourself what a difference excellent customer service can make. Contact us today!