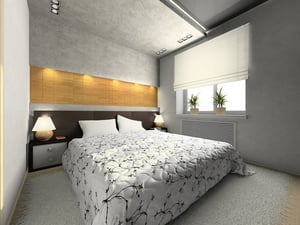 If you are looking to revitalize a tired room or wanting to add some spice to your interior decor, window treatments can give you exactly what you are looking for. They offer both form and function – creating your own personal style while providing both privacy and shade. But how exactly do you choose window treatments? And how do you mix and match them successfully? Here are some basic tips that you can apply to make the most of your rooms:
Patterns: If you want easy but bold, consider using patterns. They can add a huge pop of color, contrast with a more monochrome room, or offer subtle changes that accentuate the design of the rest of the room. Bolder patterns are better for bigger rooms while more subtle patterns are preferable for smaller areas.

Layers: Two different layers, such as a lighter panel with a blackout shade, provide a simple method for the right amount of privacy while adding a bold statement. This is best for common areas of your home, such as a living room or formal dining room, as well as bedrooms.

Textures: Why restrict yourself to a single texture for your window treatments? Different textures can also create a space that is unique yet easy to achieve. For example, you can mix bamboo with shades or rollers – whatever works for you and the space. Note that if working with different textures, it is recommended that you stay within a more neutral palette so that the look doesn't overwhelm.

Preferences: It's one thing to mix and match your window treatments. But you have to align that with what you like – and that means knowing what you don't like. For instance, you may like patterns, but only smaller, more delicate ones. Or perhaps you like keeping within the same color family, but not in neutrals. Whatever you choose, make sure you love it. After all, you will be looking at it each and every day.

Ask for help: Maybe you like blues and bold patterns. But do you know if you like them together? Or perhaps you like a certain look, but are unsure of it will work in a specific room. The best way to determine that to do is to ask a professional. They have the experience and know-how to help you select the right colors, textures, and style to exceed your expectations while working within your budget.

While mixing and matching window treatments can seem daunting, it is much easier with the assistance of a professional. Contact All About Blinds & Shutters to schedule a free in-home consultation today.