When looking to update your window treatments, many people primarily consider aesthetics and functionality. However, it is equally as important to consider durability and maintenance when looking to invest in window treatments.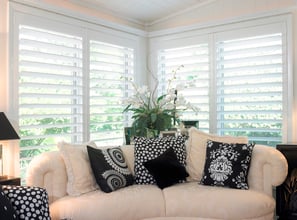 You want to make sure that your window treatments fit your lifestyle - for example, if you are someone who doesn't have a ton of time to clean, you will want a window treatment that repels dirt and dust. Or if you are someone with pets or children, you likely want window treatments that are easy to clean, that are cordless to minimize hazards, and that can withstand some minor stress or damage.
And of course, you want to make sure your investment lasts a long time. Read on to learn more about window treatments that require minimal maintenance and some pro tips for keeping them clean!
DURABILITY
While it could be argued that any home can benefit from durable, low-maintenance window treatments, there are certain spaces that could stand to benefit more than others. These include:
Homes with children and/or pets
Rental or vacation homes
Homes in extreme environments (we don't get extreme cold or snow here in Florida, but we certainly get some pretty extreme heat and humidity)
Moist or humid spaces, like kitchens or bathrooms
Workshops or craft rooms
Spaces with heavy traffic like commercial spaces
Playrooms
Low Maintenance Window Treatments
Blinds and shades are typically going to be your low-maintenance options because they are easy to clean and resist things like must, mites, allergens, odors, and dust. Our top picks for most durable, low maintenance window treatments are:
Cellular Shades: Known for their superior light filtering capabilities and privacy, cellular shades also provide incredible climate control for your home due to their honeycomb-shaped air pockets. Many would assume that because they are fabric, they might trap odors or attract dust, however the opposite is true! Cellular shades have anti-static and dust repelling properties that keep them fresh and allow for infrequent cleanings. When you do need to clean them, all it takes is a swipe with the brush attachment on your vacuum.
Wood Blinds: Wood blinds provide a natural warmth and timeless style, however they can also be a low maintenance and eco-friendly option for your home. They work with any design scheme from classic to contemporary and can easily be cleaned with a microfiber towel and some common household cleaning products or simply soap and water. Some options can even be equipped with hole punches through slats that will allow you to slide slats out for an even deeper clean.
Cordless Shades: You can get nearly any shade or blind option cordless - from wood and aluminum blinds to fabric shades and rollers. The durability factor here is more contributable to the mechanism than the material. Cordless means fewer parts and less likelihood of breaking. It also means less danger for little ones and pets, as they can easily get tangled in cords. Depending on what material you choose, they can easily be cleaned with a quick swipe of the vacuum brush attachment or with a sponge and some soap and water.
Roller Shades: These shades are available in a wide variety of materials and colors. Because they have a flat, smooth surface, they are easily cleaned with a swipe of the brush attachment on your vacuum cleaner.
Faux Wood Blinds: Faux wood blinds offer the same sophisticated, versatile look as real wood blinds, but can withstand moisture, humidity, and harsh light without warping, chipping, cracking, or fading. This makes them ideal for locations like bathrooms, sun rooms, or kitchens. Much like real wood blinds, due to their rigid surface, they are exceptionally easy to clean with a damp cloth. To fight allergens, bacteria, and dust, you can also use a mild cleaner.
Cleaning Tips
To keep your window treatments their freshest, keep the following simple tips handy:
Routine maintenance: Regular maintenance helps everything from your car to your AC run smoothly, but did you know that it's just as important for your window treatments? While getting any of the window treatments listed above will likely help you cut back on the frequency of cleanings, regular maintenance will help you preserve your window treatments and keep them looking like new for many years.
Insect removal: The worst part of window maintenance is arguably the need to occasionally remove bugs that get stuck between the layers of your window treatments. You can use either a can of compressed air or a blow dryer on the cold and low settings to blow them gently out and then sweep or vacuum them up. Important note: Never insert any objects between the layers of your window treatment, this could cause tearing or damage.
Deep cleaning: When it's time for more extensive maintenance, there are material-specific cleaning solutions and methods that you should use for cleaning window blinds and shades. Follow the general instructions below to achieve best results in cleaning your Jacksonville blinds and other window coverings.
Blinds and Shutters (Synthetics or Polymers)
Use a mild solution of soap and water.
Gently wipe the blinds.
Do not use cleaners that contain ammonia or bleach.
Blinds and Shutters (Wood)
Dry dust thoroughly.
If dry dusting is not sufficient, use a clean, damp cloth to wipe the blinds. It is important to limit the moisture to an amount that can evaporate relatively quickly. Do not allow excessive moisture to remain on wood products.
Murphy's Oil Soap, or a similar product, may be diluted in clean water and used to wipe wood products. Do not allow moisture to stay on the wood for a prolonged period.
Shades (Fabric)
There are four common ways to clean fabric shades. Consult with the retail supplier from whom you purchased the window covering to ensure that you use the method recommended for your particular type of window shade fabric.
Dusting the shades may be sufficient if indoor air-quality is relatively good.
Immersion: You can perform this cleaning process at home. Completely immerse the window shade in a bathtub filled with a solution of mild detergent in lukewarm water. Wash the shade by using your fingers to move the soap and water solution around for five minutes. Do not scrub the shade or use any kind of brush to clean it.
Injection/Extraction: This cleaning method must be done by a qualified window shade cleaner. A professional will come to your home to perform the cleaning, so you can leave the shades on the windows during cleaning. The process involves injecting a cleaning solution directly into the fabric and quickly extracting the dirt along with the solution from the shade.
Ultrasonic: This method must also be performed by a professional. The ultrasonic approach achieves the most thorough cleaning in the tightest fabric folds. However, this type of cleaning is not appropriate for all window covering materials. Ask your retail supplier, or consult with a professional blinds cleaner to ensure that this cleaning method is acceptable for your particular shade fabric.
Vertical Blinds (PVC)
Wipe the blinds with a mild solution of soap and water.
Do not use cleaners containing ammonia or bleach.
Vertical Blinds (Fabric)
Use the same cleaning processes and products as for fabric shades (explained above). Consult with the blinds retail supplier or a professional window shade cleaner to ensure that you choose the appropriate one of the three cleaning methods for fabric shades when you clean the fabric of your vertical blinds.
IMPORTANT: Before undertaking any of the above methods of cleaning, consult with the retail supplier from whom you purchased the window covering or with a window shade cleaning professional to ensure that you use the appropriate process.
If you need a deeper cleaning or window treatment maintenance for damaged products, contact All About Blinds & Shutters today! If you purchased with us, your window treatments may even still be under warranty.