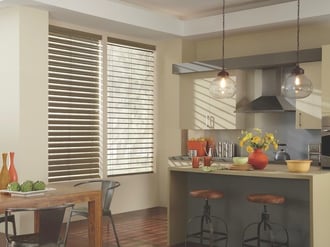 Many people spend more time in their kitchen than they realize. The beauty and design of your kitchen can impact your enjoyment of time spent cooking for your family, baking, and preparing holiday meals. A little additional effort spent in the design of your kitchen can really pay off!
Whether you are undertaking a complete remodel of your kitchen, or you are simply looking to refresh your kitchen's look with one or two small changes, you may wish to consider these ideas for the window coverings in your kitchen. Well-chosen window coverings can truly bring your interior design together to create a comprehensive style that is a feast for the eyes!
Window Treatments, Walls, and Molding
Do you already have curtains in your kitchen? If so, you will likely want to choose a window treatment in a neutral shade. Too many patterns and colors can easily become overwhelming.
Kitchens with colorful molding near the ceiling should display shades or window treatments that match the color of the molding. This way, the more subtle shade will truly pop.
If you have neither molding nor curtains, choose a window treatment that complements the color of the walls. Plain paint will look good with more visually exciting window treatments, while brighter paints may benefit from more neutral shades.
Floors, Countertops, and Cabinets
If you have colorful flooring, or flooring with a subtle but beautiful shade you would like to stand out, matching your window treatment to your flooring can bring the colors in your flooring to the fore.
Matching your window treatments to shades in the floor can give the illusion of a larger space. This is especially pertinent for those who have smaller cooking spaces.
Kitchens with cabinets in a neutral shade can likely choose window treatments without heavy regard given to the shade of cabinet present.
Colorful kitchen cabinets require carefully chosen window treatments. Matching the window treatment to the main cabinet color can overwhelm the eye. Instead, choose a window treatment that matches the secondary colors in your cabinets.
If your countertop matches your cabinets, you will want to choose another shade for your window treatments.
Should your countertop and cabinets complement each other with different but compatible shades, you could choose to match your window treatments to either color to make it stand out.
Lighting, Privacy, and Functionality
Window treatments are the means by which you control how much light, and what shade of light, fills your kitchen. You can control the warmth of the light, as well as the amount of light, by choosing the correct shades.
Those who appreciate a pure sunlight tone may prefer white window treatments. Choosing a redder shade will add a warm, home-y glow, while a bluer shade cools down the tone of the light.
Ensure the light your shades provide meets your needs. The ability to read product packaging, recipes, and appliance controls is an important part of enjoying your kitchen to its fullest.
If you prefer greater privacy in your kitchen, choose an opaque window treatment. Transparent window treatments are ideal for those who prefer the most light and are unconcerned with blocking out the view from outside.
Contact All About Blinds Today!
If you have questions about how to choose window treatments for your kitchen or are looking for an expert opinion on your own ideas, contact All About Blinds today! Put our knowledge to work for you.