Hunter Douglas Summer 2015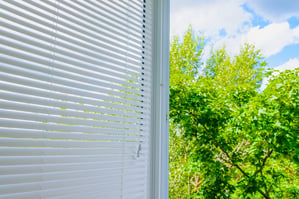 This is the time to look into quality window coverings from Hunter Douglas. Their 2015 Celebration of Light rebate offer will save you money. Don't wait to check it out – the offer ends on June 30. Contact an experienced designer at your authorized Hunter Douglas outlet for all of the beautiful options available to you at discounted prices.
Your experienced dealer can show you the benefits of and value of buying the right window coverings for your space. Whether you're decorating a new home or updating your current one, window coverings are among the best and most versatile ways to make a statement.

Maximize Versatility

You may not be aware of all of the new products offered by Hunter Douglas, but you will be delighted to find that you can customize your windows and even supervise the amount of sunlight you let in.
Many Hunter Douglas window coverings participate in the Counterparts program. This is where
you can choose the same fabrics and colors across product lines. This allows you to choose from a variety of vertical or horizontal blinds that compliment each other. Consider covering your kitchen window with a light controlling Alustra product, and using Skyline sliding shades in the same color on your sliding glass door.
The variety of colors is not the only attractive feature of these great products. There are
wonderful fabrics, sleek metal vanes, and wooden louvers available.

Let the Light Shine

Specifically designed products can help you create the look you want, maintain the privacy you seek, or diffuse harsh light from East or West facing windows.

● Choose the Alustra Silhoutette shade for textural interest and metallic accents. Save $100 on two shades, and $50 on each additional shade.

● For a unique look, ask about Pirouette shades. The soft fabric vanes look like they're floating on a sheer backing. This is a great option for diffusing light, and retaining privacy while letting light in. For a lustrous finish, ask about Alustra Pirouette designs. Save $100 on two units, and $50 on each additional unit.

● Honeycomb shades are always a good option for energy efficiency, and new fabrics and colors make them a great textural feature for decorating your room.

● Duette shades offer a classic design, with single or double cell shades. You can choose different sized cells to compliment your window size, and can even get these great shades in Vertiglide vertical designs. Save $100 on four shades, and $25 on each additional shade.

● For the best energy savings, ask about Duette Architella shades in different fabrics and cell sizes. These shades are designed to insulate your home, and will keep your space warmer in cold weather and cooler in hot weather. Save $100 on four shades, and another $25 for each additional shade.

● Add even more decorative design with Alustra Duette Architella shades, with a light diffusing sheen. Your designer will show you all of the options and help you select the right look for your style and taste.

● For wide windows and sliding doors, consider Luminette sheers. These beautiful window coverings come in a variety of fabrics and colors, and give you the right amount of combined privacy and light. Save $100 per unit, and another $100 per each additional unit.

● Sliding fabric panels are great for doors and big windows, and they also work well as room dividers. These great panels add a sleek contemporary flair with clean lines and simple sliding design. Used as a room divider, these panels can add drama and visual impact. Save $100 per unit, plus another $100 for each additional unit.

Savings Details

The rebate on Hunter Douglas products is a mail ­in rebate, and will issues in the form of a prepaid reward card. The card will be mailed to you within 6 weeks. Funds do not expire, but
limitations may apply. To get the complete details and rebate form, visit your authorized Hunter Douglas dealer. Don't wait – the offer ends June 30.

Take advantage of this opportunity to get the quality you deserve. Hunter Douglas window
coverings will give you years of enjoyment.