When contemplating upgrading window treatments, we often think of the living room or bedrooms first. The bathroom, while often overlooked, requires just as careful consideration; it demands windows that are not only stylish but functional.
Not only do you need to choose window treatments that fit the often small or oddly-shaped windows in the washroom, you need to select materials that can stand up to major humidity and that will be easy to clean. Privacy is also an important consideration for any room in the home, but especially for bathrooms.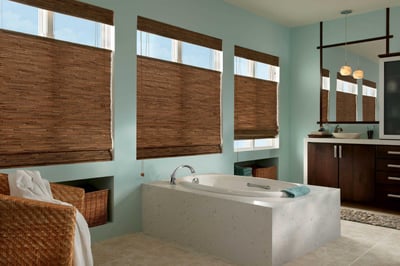 Important Considerations for Bathroom Window Treatments
Window treatments for the bathroom need to meet several vital criteria. Ensuring your window coverings meet these will prevent frustration and even health concerns in the future.
Ease of cleaning. The heavy moisture and humidity of the bathroom makes it a prime breeding ground for some germs and bacteria. This environment can also nurture mold and mildew. Any surface you add to your bathroom, including blinds and shades, require frequent and thorough cleaning to remove those germs and molds before they grow.
Durability. Your bathroom sees frequent use. By nature, any window treatments in your bathroom will also be used frequently. Durability will prevent you from needing to replace your window coverings too often.
Privacy. What you do in the bathroom should stay in the bathroom. Maintain your privacy with window coverings that allow for full coverage and no accidental views for unsuspecting neighbors.
Light control. Bathrooms are often attached to bedrooms, or sit near them. Light control allows you to prevent light from spilling into your bedroom while you sleep. It also helps to have good light for personal hygiene and grooming.
Excellent Choices for Bathroom Window Treatments
Using these criteria as a guide, what window treatments are best for your bathroom? If you want both form and functionality, these options provide you with both beauty and ease of cleaning.
Shutters allow for complete privacy and light control. They are easy to clean and durable even with constant use. These may be better for larger windows, but will work in bathrooms as well!
Faux wood blinds are extremely versatile and lend the classic elegance that comes with traditional wood blinds. However, they will resist moisture and will not warp or crack. They are also easy to wipe down to prevent germs or mildew.
Roller shades allow you to choose materials resistant to mold, mildew, and lurking germs. They offer full coverage as well as light control, and are quite durable to constant use. They will fit in smaller windows without a fuss!
Beautify Your Bathroom With All About Blinds & Shutters
Humans spend an average of 416 days in the bathroom over the course of their lives. Don't you want to make sure that the bathroom you're spending all that time in meets all your design and practical needs? Contact All About Blinds & Shutters today for more information on how we can help upgrade your window treatments and beautify one of the most important rooms in your home.