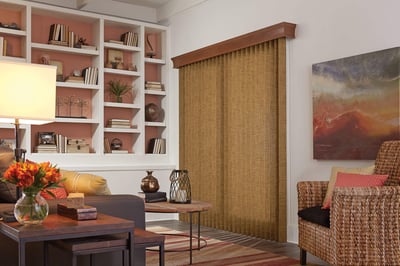 Graceful, elegant, and timeless, vertical blinds have been a familiar sight in homes for decades. Many of us may have fond memories of standing at the window, slats rattling around us as we waited for friends or dates to show up. Maybe you also remember a happy dog's tail whacking a slat out of the holder to leave a gap in the blinds.
Vertical blinds have come a long, long way since those days. They have become a quiet, sturdy mainstay of a classic home aesthetic: Versatile enough for windows where you need a workhorse but elegant enough for common rooms where you want to impress.
What are Vertical Blinds?
Vertical blinds are a type of window treatment that utilize vertical slats set in a track at the top of the window. These slats can be pushed aside all at once to remove all obstructions from the window, or can be tilted in place so you can look out between them. This means they offer superior light control and versatile privacy options for the entire home!
The slats on vertical blinds come in a variety of materials to match any home décor. Choose PVC, fabric-covered, or a combination for a specialized look. They are a great option to cover sliding doors or other large entry points.
Do Vertical Blinds Offer Light Control and Privacy?
Vertical blinds are excellent when you want both light control and privacy! This window covering allows you complete discretion when it comes to how much light you allow into a room, as well as how much you can see out – or others can see in. They remain one of the best choices for those who want varied levels of brightness and privacy.
You can choose blinds made of opaque, light-blocking material that will keep the bright sun out of your bedroom or child's room to ensure better sleep. You can also select lighter materials that allow a greater amount of natural illumination to shine ambiently through. When you want to take in the outdoors, you can push the shades aside with near-silent operation, or you can tilt the slats to look between them.
Is it Easy to Clean Vertical Blinds?
It could not be simpler to clean vertical blinds. Those made of PVC or similar materials weather the use of common cleaning products with ease, making them simple to wipe down while you are already in cleaning mode. You can also easily vacuum them with a brush attachment to remove larger debris such as dust or pet hair.
Go Vertical with All About Blinds & Shutters!
Straight talk – vertical blinds are a cost-effective and easy-to-clean option for windows and doors. All About Blinds & Shutters carries a wide variety of window treatment options to suit your needs: Contact us today today for more information!