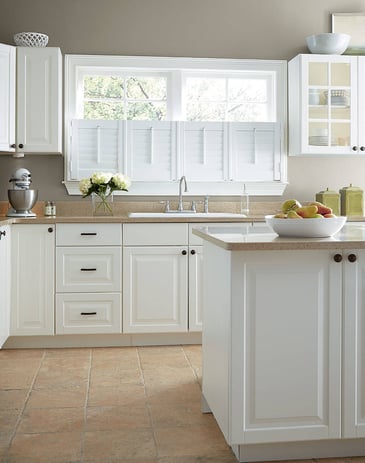 While we Floridians may not get the full sweater and hot cider experience that is stereotypical for Fall, there is still a crispness to the air that comes that gives us relief after the long, hot summer.
But no matter what the season, the name of the game when it comes to window shades is complimentary style with energy efficiency. We still use our AC in Florida during the Fall months, but relief from the high cost of energy bills is a welcome sign of Fall as well. And with the right window treatments, you could cut those bills down even further.
In this article, we will show you some of our go-to window treatments for providing the right amount of privacy and energy efficiency without sacrificing the aesthetic you're trying to achieve in your home.
Shutters
When one thinks of the fall season, one generally thinks of feeling warm and cozy. Even though we live in a warm climate, we can still enjoy the coziness of fall by bringing that feeling in with window treatments.
One great way to create a feeling of year-round warmth in a room is by using hardwood shutters. Highly customizable with a variety of stains and finishes to choose from, hardwood shutters can fit into any home's aesthetic easily, whether your home is modern or has a more rustic feel.
Hardwood shutters' durable construction makes them a perfect choice if you're looking for a low-maintenance window treatment that is going to last for years. They are guaranteed to bring coziness to any room for many Falls to come.
Cellular Shades
Cellular shades are usually at the top of the popularity list when it comes to window treatments. The reason is pretty simple: They're attractive, versatile, and highly energy efficient.
Their versatility comes from their design that allows them to go from sheer to room darkening with ease. Cellular shades are unique in that they are available in all four opacities: sheer, semi-sheer, semi-opaque and opaque. With four options, you have complete control over the lighting in your home no matter what the outdoor light looks like. Is it overcast? You can still get some natural light with Cellular shades. Need complete darkness? Cellular shades in opaque have you covered.
Their energy efficiency is due to their unique design that provides high levels of insulation with the use of honeycomb-shaped air pockets. These pockets are the "cells" in "cellular shades." They provide insulation between your window and your room's designated temperature. Available in both single cell (one air pocket) and double cell (two air pockets) designs, the one you choose depends entirely on how much insulation you need based on your home's climate.
Wood Blinds
Another popular choice when it comes to bringing coziness into a room with window treatments is the choice of wood blinds. Like shutters, they are available in a variety of colors and grains that will compliment any decor in your home.
Wood blinds are a great addition to a room that you might otherwise view as "plain." Adding architectural interest, Due to their solid construction, wood blinds appear to be more of a "built-in" part of the room than an addition. Imagine how great they will look in pictures of pumpkin carving and other Halloween festivities!
We're Here to Help
Having trouble deciding what will look best in your home to put your family and friends in the mood for Fall? At All About Blinds & Shutters, our entire team is passionate about helping you find the perfect look for your home that gives you the privacy you desire without sacrificing the natural light you crave. Contact our team today to discuss what options we have available from design to installation. Together, we can give your home the look and feel you've always wanted.