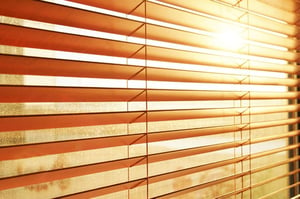 Windows are an integral contributor to a room's natural light levels and the amount of heat transferred in or out; window treatments can help you manage those things. Another important and sometimes overlooked thing window treatments can help manage is privacy.
Home is where most of your life happens and, for the majority of homeowners, getting a window treatment that offers optimal privacy is a must. You may be wondering what your best window treatment options are for privacy. Fortunately, today's window treatments come in a wide variety and offer versatile options for the privacy-conscious homeowner.
Does One Style Fit My Whole Home?
For some homes, the answer may be yes. However, there are many situations where you may need to mix-and-match specific types of window treatments to get the privacy you want. Some of these could be:
Entryway windows that are unusually shaped and could be pushed around when the door opens and closes.

Windows in bathrooms where water and humidity could ruin the material used to cover them.

Non-traditional, unique windows such as a round windows, brow windows, transoms, bay windows etc.

High up, hard to reach windows in foyer areas.

Noise/light prone, street facing windows.
If any of these sound like your home, then you'll need a window treatment that can provide the level of style and privacy that best suits your space.
Climate Can Change Everything
When picking your window treatments, you need to consider the type of material you need for harsher seasons. Thin or less solid materials will not provide the much needed buffer for keeping out heat and cold. Your first instinct may be to put up a set of curtains. However, you may want to reconsider, as curtains make it difficult to adjust the amount of light that enters a room because they are limited to just two options: open or drawn.
The good news is that there are a multitude of options for blinds or shades that can offer similar, or in many cases superior, temperature control and visual blockage as a set of curtains. And if you have hard-to-reach windows, then you can even get automated window shades, which also add security to the home by eliminating dangerous cords and automatically closing at a preselected time to maintain privacy in the home.
Plantation Shutters For Privacy
Although blinds and shades may offer a high level of privacy, they may not match your personal style. Don't despair, plantation shutters are always there! Shutters are a solid choice when seeking the perfect blend of privacy and beauty. When Plantation Shutters are fully shut, you can achieve a darker room and minimal heat loss; when they are open, they can allow in much needed light and warmth. The best part is that they can obstruct the view to the inside of your home while still allowing a breeze to pass through the slats when they are angled.
With all these options, the interior designer in you is probably wondering about visual customizability. Curtains come in just about every color and fabric you can think of, but blinds are rarely found in more than a few neutral colors if you buy DIY. If you are concerned about design, your best bet would be to work with a custom window treatment manufacturer like All About Blinds & Shutters. When you work with us, you can choose from a variety of materials and looks when selecting blinds, shades, or shutters, which can be customized to fit your needs.
If you want to discuss options for window treatments and how much privacy control you need, reach out to our certified professionals for a free in-home consultation today.