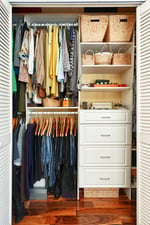 You may have heard the saying, "A cluttered space is a sign of an organized mind." People at work with messy desks like to say things like that! The truth is that research into clutter and its affect on your state of mind shows that the opposite is true. Not only does clutter contribute to anxiety and a distracted state of mind, it can be unhealthy for you physically as well. Some recent findings about clutter and mental health show that people who have a lot of clutter have trouble focusing and getting tasks completed. Some other detrimental effects of clutter include:
Anxiety. Clutter makes people feel that they are never finished with whatever they are doing. Their minds work overtime trying to sort out all of the things they see lying around. It's difficult to relax in clutter.
Guilt. Clutter seems to say that you didn't get things put away or cleaned up properly.
Disorganization. Getting things done is harder when we have to dig through piles of stuff to find what we need.
The bottom line is that too much clutter leads to stress. Who needs that? If you're reading this, you're probably already aware that organizing your home would make you feel better! Custom closets, accessories, and other organization solutions can make all the difference in your home, and your mental state.


Knowing Where to Start

Most of us feel overwhelmed when we think about getting our clutter organized. How do you begin?

Pick a starting place, and create a vision. Your bedroom is a great starting place. Do you envision a place of peace to relax at the end of the day? What do you envision for your closet and storage space? Wouldn't it be great to have a space that makes getting dressed every day a breeze? Ask yourself what you want to accomplish in the space. Then you can look for the solutions that best fit your needs.
The old adage is true – a space for everything, and everything in its place. Custom closets are designed around this concept, creating spaces that are accessible and convenient for all of the things you use and need each day. There are many great accessories to help out as well.
De-clutter. You're trying to create a space for everything so you can put everything in its place. Are there things you don't need, use, or want any longer? Make a commitment to make decisions about those things. Sort things into three piles:
Compartmentalize. If you envision your bedroom as your sanctuary, move your computer and exercise equipment out. Use your custom closet design to tuck away athletic equipment and laundry, or anything else that keeps your room from feeling messy.
Be creative. A custom closet can work anywhere you have a problem with clutter. A creative consultant can customize solutions for your kitchen, office space, dining room, or anywhere in your home that needs storage and organization.
Purpose your space. Small spaces can be a problem, and you may have rooms in your home that need to function for more than one purpose. If your family room also functions as a playroom, consider a custom closet or cabinet for toy storage, movies, and video games.
Eat Your Elephant One Bite at a Time
Tackling clutter may feel like trying to eat an elephant in one sitting. It's a daunting task! Do a little at a time, and don't let yourself get overwhelmed.
Start with one room, and after you have that under control move on to the next space.
Get inspiration by looking at online videos of finished custom closets and organized spaces.
Check out organizational accessories. Boxes, hanging rods, and other helpful accessories can be great ways to organize in small spaces.
Get a consultation from an expert. People who design custom closets know what you're dealing with! Ask for help from experts who can help you see all of your options and introduce you to products you may not know about.
Research shows that as people conquer their clutter their energy level rises, and they develop a sense of accomplishment. Getting control over one area of your life, even if it's your closet, could be the start of something big! Don't wait to get a consultation, and see the great options available to you. Contact an expert to get started today.