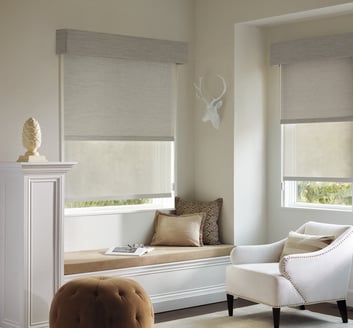 From a cozy corner to curl up with a book to adding extra seating to a small room, the possibilities for window seats are endless. It can be a challenge to create the perfect window seat when there are so many design elements to consider. Keep reading to learn some of our favorite tips to help create the window seat of your dreams.
Pick the Perfect Window
It should go without saying that in order to create the perfect window seat, you need to pick a window that works. Here are a few things to keep in mind:
Your window seat should be in a place where you spend a lot of time. This typically means the kitchen, den, family room or bedroom area.
The ideal window seat has enough space for at least two people to sit comfortably. Using this measurement as a guide means one person can likely lounge there in a more comfortable reclining position.
Your window seat can be in full sun, but spots that get some shade are often a better choice, particularly for the hot summer months.
Opt for a Custom Build if possible
Using readymade furniture for a window seat is possible, but in most homes, a custom build is a far better option. That's because with a custom window seat build you'll be able to specify your ideal size and ensure that it's an exact fit for the area you've chosen. This will provide a much more high-end look than trying to force prefab options into an existing area.
Pick the right window treatments
One of the most important elements of a perfect window seat is window treatments. After all, you likely won't want to be exposed to the elements the entire time you're reclining in your cozy seat. Plus, the sun can wreak havoc on cushions, pillows, and upholstery. Here are some of the most popular window treatments you can use for your window seat.
Shutters
When choosing window treatments, you'll first want to look to match the style of your home. In many houses, classic shutters are an ideal option. While wood shutters will do the job, 100% Polymer options offer a more affordable option for your space. They also come in UV-resistant finishes, which is particularly important in areas where you get full sun most of the day.
Blinds

Available in classic wood, stained wood, PVC and aluminum, blinds can be an ideal no-fuss solution for protecting your window seat from destructive sunlight. With wood and faux wood options, you'll be able to choose from a range of finishes designed to match your unique style. You can even find options that look like existing wood trim if you have it.
Shades

Shades are an elegant window treatment solution for your dream window seat. From Roman shades to solar screens and privacy shades, you can find traditional, transitional or sleek modern looks to fit your home. Another versatile option is fabric shades. These come in many styles and can range from natural and neutral to incredibly colorful and bold. Motorized shades can be beneficial if you have a very deep window seat that makes adjusting shades more difficult.
Ready to add the perfect window seat to your home? Contact All About Blinds & Shutters for your window treatment needs. We are also happy to help you choose a variety of window treatment options for other spaces in your home from the family room to your master bedroom, dining room or living area.