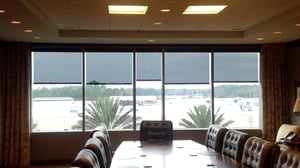 "I love artificial light, it's my favorite part about where I work," said no one ever.
You spend roughly one-third of your life at work, and for business owners and executive teams, that number often climbs even higher. Not only do the form and the function of an office space contribute to client and prospective employee first impressions, it can also impact the staff's health.
Natural light lends more than warmth and elegance to a work environment. It also reduces the amount of sick leave taken by staff, according to a study by Northwestern Medicine and the University of Illinois. Furthermore, workers exposed to natural light saw an 84% decrease in issues like headaches, blurred vision, and eyestrain, according to a study by Cornell.
Motorized window treatments offer the most beneficial and cutting-edge way to maximize and manage natural light in the workplace, as well as provide increased privacy and convenience through automation.
The Benefits of Natural Light
It seems obvious that natural light provides benefits to the energy usage of your workplace. When you have an abundance of sunshine in your office, you need to use fewer electrical fixtures. Motorized window treatments allow you to control the light coming in through the windows and help provide you with the exact illumination you require.
Yet there are other, less tangible benefits to natural light that good employers will pay attention to. Natural light has been found to offer benefits to those exposed to it, from better sleep to lifted moods to an increase in vitamins. Natural light is also better for the health of your vision. Let the sun shine in wherever you can!
The Convenience and Security of Motorized Window Treatments
For some business owners, the extra steps of opening and closing their window treatments with their office hours is one task too far in an already busy day. Advances in window treatment technology have solved this.
Utilizing motorized window treatments is now as easy as setting up automatic lights. These window coverings can be programmed to open and close on the schedule you need. They provide both convenience and peace of mind, as you will never need to wonder if you remembered to close up shop at the end of the day.
Motorized window treatments also provide additional security. You can easily close them for presentations or sensitive discussions with the press of a button. For times when your office will remain empty, such as holidays, motorized window treatments can be operated remotely to provide the illusion of someone in the building.
All About Blinds & Shutters Has You Covered
If the thought of more natural light in your office or business space appeals to you, contact All About Blinds & Shutters today! We can help you find the window treatments that will meet the needs of your workplace and streamline your routine.