Window treatments can be a source of great confusion in a room. You want your windows to look good, yet still be functional. You don't want to overdress them, but at the same time, you don't want your windows to appear so austere that your room looks unfinished. The choices can be overwhelming. Luckily All About Blinds and Shutters can help you narrow down your choices with the fall of 2016's top window treatment trends, including:
Organic
One of the more popular trends for the fall season is the look of woven wood, or bamboo. Natural in appearance, soothing, and light diffusing, this style of window shade is subtle and naturally relaxing. Lovely to look at and great insulation for the Jacksonville heat, the wood or bamboo (or faux wood) will naturally promote zen moments while keeping your energy bill low.
Color, Color, Color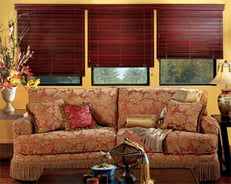 There's no doubt a pop of color can brighten up even the most drab decor. For the last few years, windows have been sporting treatments in the red family. In 2016 we're seeing a lot more blues of all tones. Subdued, in patterns, and jewel-tones are helping bring rooms to life all over the Sunshine State.

Sleek Lines
Simple, tailored, and sleek silhouettes are showing up on windows in all the most stylish ways. Screen shades and panel tracks are becoming more and more popular for their casual, yet high-style appeal. Decorative hardware, in chrome, is making an appearance as well. These modern touches add to the clean lines of today's windows, providing the highest quality of protection and privacy, while offering a stunning addition to your decor.
Bold Prints
Stripes, bold prints, and geometrical patterns, in every color of the rainbow, are popping up on windows and doors throughout the country. Youthful, exciting patterns are taking last year's chevron to a whole new level. Bold florals provide some drama to dull spaces. And stripes are making a statement like never before.
Hi-Tech Harmony
Our homes—and, very often, our lives—are enriched by technology. Today's blinds and shades can be controlled by the touch of a button. Switch your window treatments to motorization for its numerous benefits. Hi-tech is here to stay. Why not make it work for you?
Eco-Friendly Fashion
Clean and "green" is another popular-and functional-trend all over our region. Allergen-free and environmentally friendly window shades and blinds help make your home comfortable for everyone. Many of today's window treatment fabrics are designed to be anti-microbial and contribute to better air quality. And they look good while doing it!
If you're ready to update your windows with 2016's most popular window treatment trends, contact us online or stop by and preview our extensive selection of products and materials in our showroom. We manufacture, sell, and install custom window coverings in many different styles and up-to-date trends. We have on-staff design consultants and offer free, no obligation estimates in your home. Contact All About Blinds & Shutters today and let us change the way you see your windows.