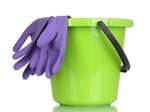 Protecting your beautiful new window treatments and keeping them looking new require both basic routine maintenance and periodic deeper cleaning. This guide provides basic instructions for maintaining various popular styles of window coverings in the home.
Routine maintenance – Essential periodic maintenance is the first course of action to preserve the optimum appearance of your Jacksonville blinds and other window coverings. Frequent gentle dusting with a manual duster or a vacuum cleaner is recommended for most types of shutters and blinds. Increase the frequency of your cleaning routine as needed.
Insect removal – To remove bugs that may become trapped between layers of your window covering material, use a product called Compressed Air, or similar product, to blow out the insect parts. Or, use a blow dryer (on "cool" setting).
NOTE: Do not insert any type of object between the layers of your window covering in attempt to push out the bug. This could cause tearing or other damage; it could even destroy the shade.
Deeper cleaning – When it's time for more extensive maintenance, there are material-specific cleaning solutions and methods that you should use for cleaning window blinds and shades. Follow these general instructions to achieve best results in cleaning your Jacksonville blinds and other window coverings.
Blinds and Shutters (Synthetics or Polymers)
Use a mild solution of soap and water.
Gently wipe the blinds.
Do not use cleaners that contain ammonia or bleach.
Blinds and Shutters (Wood)
Dry dust thoroughly.
If dry dusting is not sufficient, use a clean, damp cloth to wipe the blinds. It is important to limit the moisture to an amount that can evaporate relatively quickly. Do not allow excessive moisture to remain on wood products.
Murphy's Oil Soap, or a similar product, may be diluted in clean water and used to wipe wood products. Do not allow moisture to stay on the wood for a prolonged period.
NOTE: Protect your wood window treatments from exposure to steam, rain, lawn sprinklers, and all other moisture. Additionally, when cleaning windows, prevent accidental overspray of window cleaners from damaging your wood window coverings by spraying the window cleaner onto your cloth and then applying it to the window. Do not spray the glass cleaner directly onto the window glass.
Shades (Fabric)
There are four common alternatives for cleaning fabric shades. Consult with the retail supplier from whom you purchased the window covering to ensure that you use the method recommended for your particular type of window shade fabric.
Dusting the shades may be sufficient if indoor air-quality is relatively good.
Immersion – You can perform this cleaning process at home. Completely immerse the window shade in a bathtub filled with a solution of mild detergent in lukewarm water. Wash the shade by using your fingers to move the soap and water solution around for five minutes. Do not scrub the shade or use any kind of brush to clean it.
Injection/Extraction – This cleaning method must be done by a qualified window shade cleaner. A professional will come to your home to perform the cleaning, so you can leave the shades on the windows during cleaning. The process involves injecting a cleaning solution directly into the fabric and quickly extracting the dirt along with the solution from the shade.
Ultrasonic – This method must also be performed by a professional. The ultrasonic approach achieves the most thorough cleaning in the tightest fabric folds. However, this type of cleaning is not appropriate for all window covering materials. Ask your retail supplier, or consult with a professional Jacksonville blinds cleaner to ensure that this cleaning method is acceptable for your particular shade fabric.
Vertical Blinds (PVC)
Wipe the blinds with a mild solution of soap and water.
Do not use cleaners containing ammonia or bleach.
NOTE: For problems with static cling, wipe the blinds with the same type of anti-static cling sheets that you use in your clothes dryer.
Vertical Blinds (Fabric)
Use the same cleaning processes and products as for fabric shades (explained above). Consult with the Jacksonville blinds retail supplier or a professional window shade cleaner to ensure that you choose the appropriate one of the three cleaning methods for fabric shades when you clean the fabric of your vertical blinds.
IMPORTANT: Before undertaking any of the above methods of cleaning, consult with the retail supplier from whom you purchased the window covering or with a window shade cleaning professional to ensure that you use the appropriate process.
All About Blinds & Shutters is Jacksonville's largest showroom. We want to invite you to stop by and see our wide selection of blinds, plantation shutters, and other high-quality window treatments.