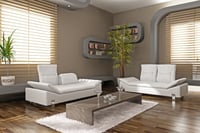 When it comes to designing the interior of a home with a type of Jacksonville blinds or shutters, it's not enough to just have quality windows. How those windows are put together with treatments creates the finishing touch that leaves a lasting impression. Just as much as having a good choice in flooring makes a room, a window treatment makes the finish for an opening to the outside view. That being said, with so many choices available, people can be forgiven for getting confused quickly.
What Are Your Expectations?
The first step in selecting the right window treatments involves first getting a good idea what one wants in a home. There are plenty of different treatments that work equally well for a given window location. That said, they don't all appeal equally to a given homeowner. So it's a good idea to plan out first general wants and expectations before trying to match up a given window with a type of window covering.
For example, you may ask yourself:
Is the window near bookcases or does it open into a sitting space area?

Is the opening more for utility, like a stairwell window, or for expansion of a room such as the front formal living room?

Is the window positioned on the sun side of the house, needing sun cover in the afternoon?

How about outside noise, does it need to be dampened?

Is sun protection needed for existing flooring and furniture, and should it be thick or allow for transparency to let the light at least illuminate the room?
Choosing a Color
With a good idea of what's desired, then one can move onto the next step: matching and choosing a color. Without a plan, colors can be a source of confusion. However, once a purpose is already in place, colors then become a variety of options. The one that fits a purpose best can be narrowed down quickly when a plan is in place. Ideally, it should work with the room décor as well as the wall and floor colorings already in place.
Consider Sun Damage
For sun protection, a window treatment often needs to provide a balance between allowing light in but also stopping sun damage to interior property. To do this, many treatments are put together with layering or interlining. The former involves two different pieces that serve different functions. One is a thick layer to close off the window, and the other is a lighter, sheer curtain to allow light in but still have privacy. However, screen shades can provide a far more durable substitute for layering versus sheer curtains. The latter involves one complete treatment that has both features made part of the same curtain. It's often a choice on higher end window treatments. Thicker layering also helps act as an insulation, saving money in the long run by blocking heat or cooling loss through a window.
An additional component then comes in the form of blinds and shutters. While these can be positioned behind drapes and curtains, the type of blinds chosen creates additional flexibility and light control in the window. For example, roman shades can be used to create both upper and lower light access. Additionally, blinds can add color to a room as well. They don't need to be in stock shutter white. Instead, woven wood blinds can create yet another source of protection and color to a room.
Window treatment of all types can work with a room when put together properly. All About Blinds can help, not just in showing a customer the variety of options available for a window covering, but also helping put together an interior home plan. With these critical details answered and organized, a window treatment becomes more than just a set of curtains. It becomes an integrated part of the interior system, color, fabrics, and design. Being Jacksonville's complete source for blinds and shutters, All About Blinds can help customers recreate their homes all over again with unique Jacksonville blinds.