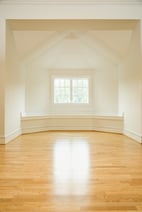 Whether moving into a new house or needing to give your current home a makeover, few things speak the volumes that window treatments can. If you are looking for that perfect window treatment, Jacksonville residents can rely upon the professionals at All About Blinds & Shutters. Offering the most impressive selections at the lowest possible prices keeps us a favored resource for all of Jacksonville Florida's window treatment needs.
Not your typical window treatment store, All About Blinds & Shades offers clients a hands-on experience and is always helpful and friendly. So, if you are unsure exactly what you are looking for, have no fear; our team of professionals can help you find the perfect treatments that will make your windows and trim mouldings stand out.
Modern windows are taking on new shapes and sizes, so it has become more difficult for homeowners to find the perfect window mouldings and treatments for windows. Many of the modern shapes include the eyebrow and transom shape, circles, octagons, ovals, and hexagons. Many of these specialty shapes are used alone or in combination with regular shaped windows.
One of the best ways to shop for all window treatments is to do it in person, though some like to order online. With just one visit to the All About Blinds & Shutters showroom you will discover a whole new world. The absolute best styles, colors and shapes of blinds and shutters are available in top-selling name brands. From the moment you walk in the door you will see why so many people rate All About Blinds as one of the best resources for that perfect kind of window treatment Jacksonville has to offer.
You will find interactive displays that actually allow you to see how a particular shape and style of blind or shutter will look in your home. The showroom is set up with a series of short walls that display windows and the treatments that are available throughout the store. This visual approach to shopping enables our clients to see our products in action instead of in boxes or simply on paper . This approach also enables us to share small samples with clients to take home for an even better matching. After all, windows are one of the most important aspects of interior décor and making them perfect is why you come to us.
No matter what kind of design or look you are trying to create, we can help you match it perfectly. Through our large variety of blinds and shades, we have helped thousands of homeowners add the look they desired for their homes. Most window treatments are seen both inside and outside of a home. Therefore, choosing the look that compliments both the exterior and interior of your home is essential. By creating an aesthetic appeal through a window treatment Jacksonville homes not only look great, their overall value goes up as well.
When shopping for blinds, shutters, screens, shades, and any other window treatment, Jacksonville residents know they will find everything they are looking for with just one visit to All About Blinds & Shutters. Start the brainstorming today about what your windows are lacking, and then make the time to come to the All About Blinds & Shutters showroom and see what we have to offer. Your windows will thank you!