Window treatments can totally overhaul and elevate your home's style, but there are so many options that it can easily become overwhelming to decide which are best for your home. How do you choose?
Home Decor Help – Which Window Treatment is Right For Me?
Window treatments are the perfect marriage of form and function. Their primary functions are to control and filter light as well as to supply privacy, yet their appearance has a profound influence on the rooms they occupy. The treatments you select should meet your practical needs as much as your style preferences.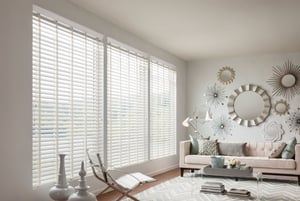 Each type of window treatments offers their own specific sets of advantages. Deciding which will depend on what room they are in, what your needs are, and what your style is.
Blinds – Cozy Light Control
When you want maximum control, blinds are the first place to look. The horizontal slats can be tilted at different angles to allow the precise amount of light you want. When you want to flood the room with sunshine, you can pull up the entire unit of blinds for an unobstructed view.
These can also lend a warm, cozy appearance to any room, especially when you select wood blinds. They have a polished, clean appearance that adds both texture and long lines for a refined touch that will enhance any home decor.
Shades – Privacy Without Sacrificing Light
Sometimes, you want to keep prying eyes out while still allowing light in. Shades, such as honeycomb or cellular shades, are the ideal choice for rooms that need plenty of brightness while maintaining privacy. While darker shades do exist for extra light filtering power, lighter-colored shades allow the daylight to shine through in rooms such as living rooms and bathrooms.
The subdued look and light diffusing capabilities of shades can soften a room without losing out on refinement.
Shutters – Classical Elegance and Light Control
It is almost impossible to go wrong with shutters. You can find this classic window covering in wood or solid polymer, with finishes that can complement your style and decor. They provide excellent light control and privacy while lending interesting texture, color, and atmosphere to your home.
Open the slats to allow in moderate amounts of light. When you want more sunshine, fold them back to open them completely. Either position gives your home a stylish aesthetic with a tidy, functional feel.
All About Blinds & Shutters Has Your Home Decor Solution
Ready to refine your home's style with new window treatments? Contact All About Blinds & Shutters today! Let us help you find your perfect look.