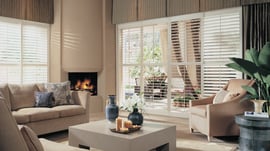 One of the first things that attract a person to a room is the windows. The windows are the one factor in a room that serves many purposes including:
Adjust amount of light in room

Can emphasize a great view

Determine how large or small a room appears

Establish the entire "feel" of the room
With all these things in mind, it is important to put some serious thought into what kind of window treatment you use. Taking the time to think about this can make a big difference in whether your room is comfortable and pleasant to spend time in or if it creates a sense of unease.
A Reflection of You
The type of window treatment you use offers a reflection of the people who live within your home. Everything from color to style, material to size, create a look and feel to your room. You can't get a true reflection of your personality off the shelf in your local discount store. The only way to truly reflect who you are is to be able to choose each element in your window treatment. Custom window treatments give you a superb way to make your home a true reflection of your personality. That isn't the only thing you can accomplish, however.
Benefits of Custom Window Treatments
In addition to the ability to show your true personality, custom window treatments offer several other benefits.
Longevity

- Window treatments that you have put the time and effort into choosing may cost a bit more originally, but the quality that they offer will make it unnecessary to have to keep replacing them. It is possible that custom window treatments can outlast what would amount to several "generic" ones.

Focus

- Decor needs a focus point. By starting with your window treatments, you can set the mood for your room from the start. They provide a focused point on one of the most appealing parts of a room.

Value

- The money you save on having to continually replace the window treatments in your home add extra value to your custom window treatments. You can change all the other things in your room and still keep the same window treatments if you have taken the time to deciding exactly what you want. In addition, should you choose to sell your home, having appealing window treatments add value to it, giving buyers a sense of well-being that may subconsciously influence their buying decision.
Final Words
The eyes may be the window to the soul, but windows are a reflection of the soul of your home. Taking the time to seriously consider what you want and having custom window treatments can really highlight your home's personality. Contact All About Blinds and Shutters to add a special personalized touch to your window treatments that will completely transform your home.