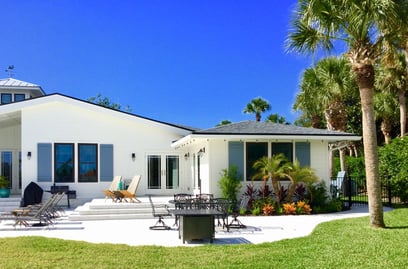 Stylish, striking, and timeless, exterior shutters can add a gorgeous accent to the outside of any home. These window accents make a statement you cannot duplicate with paint or other accessories. Exterior shutters allow for contrasting paint, textural interest, and a visual interest like no other!
Selecting the best shutters, as well as ensuring their proper installation, will make all the difference when employing this classical window décor. It's especially important to choose the correct materials, shape, and installation methods to get the best results. Taking a little extra time will pay off in both curb appeal and a long-lasting investment in your home!
Selecting the Correct Material for Your Exterior Shutters
Florida's weather can be beautiful, but it is also mercurial. This can mean bright, hot sun one day, and blistering winds the next. The relentless humidity means damp air and all the potential issues that accompany continual. These climate extremes can do a number on the exterior of your house as well as anything attached to it.
Selecting durable materials ensures your exterior shutters provide you with long-lasting beauty and a sound investment in your home. This means high-quality, long-lasting synthetic materials or light metals such as aluminum are the best choices for shutters on the outside of your home.
Choosing the Proper Style and Size for Exterior Shutters
Choosing the proper style of exterior shutters is a fun and exciting opportunity to bring additional visual appeal to your home. However, it can also be easy to fall into the trap of selecting a shutter based only on how nice the shutter itself looks without considering the window it will accompany. It is important to match shutter style to window style for a complete, matching look.
Window shape plays a huge role in what shutter will work best for your home. Shutters should match the shape of your window to bring harmony to both size and geometry. If you have arched windows, for example, a rectangular shutter will look jarring and imbalanced.
The size of your shutters is also important. Properly sized shutters will both fit inside and fill the window casing when you close them. Even if you never swing them shut, the visual mismatch will be apparent to observers. Ensure your shutters are not too wide, or too narrow, and that they are not too long for the window they are framing.
Seek Out Professional Help When Mounting Exterior Shutters
It might seem easy to apply a few screws and a little elbow grease to your new shutters and have them on your home the same day. Many people who choose to install their own shutters discover they have bitten off far more than they care to chew. Underestimating the small but important details will guarantee your shutters lack that polished appearance you crave.
Experienced assistance pays for itself in shutters that enhance your home's appearance and remain in good repair for years to come. A knowledgeable installer will ensure the job is done quickly and correctly, and meets all your expectations.
Exterior Shutters on Your Spring Upgrade List? Call All About Blinds & Shutters!
If you're using the spring cleaning season to spiffy up the exterior of your home, let us help! Contact All About Blinds & Shutters today for expert information and recommendations!