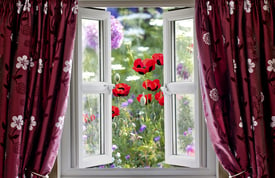 The spring season is the perfect time to begin considering or engaging in home improvement projects. One of the quickest and most effective ways to make a change in your home is to rethink your window treatments. This guide will assist you in redesigning the window treatments in your home to drastically improve your home this spring.
Styles of Window Treatments
Covering your windows is about more than just curtains and blinds today. The first step to choosing the right window treatment is to understand what your options are, then weigh those options against the desired look and function that you seek.
Blinds

Shutters

Shades

Screen Shades

Honeycomb Shades

Roman Shades

Woven Wood Shades

Shadings

Specialty Shape Shades

Retractable Screens
Function vs. Form
The primary functions for window treatments are to provide lighting and privacy control. Beyond these primary basic functions, however, you must also consider visual appeal. Your window treatments should look good both from the outside looking in and from the inside as well. This may require that you combine different types of window treatments, such as curtains over blinds for example, to create the desired appearance without sacrificing function.
Blinds: Blinds are available in numerous materials such as aluminum, wood and faux in order to created different visual effects. They can be flexible both in terms of light and privacy based on client needs. Blinds are typically paired with valances and draperies in order to create a finished effect.

Shutters: These treatments come in many different styles, though the most popular is plantation shutters which fit in with many different design styles. They offer a classic look with outstanding performance without requiring the addition of valances, draperies or other decorations.

Screen Shades: This type of window shade is meant to be drawn up and down as required, either folding or rolling to the desired length. They are made from fabric and similar materials and come in a variety of different styles and colors. They are popular for providing UV light protection while preserving natural light. As they come in different levels of opacity, you have greater control over visibility and privacy than with other types of window treatment.

Honeycomb Shades: This particular style of window shades is a feasible choice when you seek versatility in your window treatments. They feature a cellular design which offers insulation for year-round heating and cooling. If you seek window coverings which can gather tightly to offer a clear view when drawn while offering excellent privacy factor when closed, then honeycomb shades are an option well worth considering.

Roman Shades: These distinct window shades are crafted from fabric and when drawn open they fold neatly. When lowered, they are simple fabric sheets without any folds unless you opt for the Teardrop style which has light folds in the fabric when you lower the shade. One of the unique features of this style of shades is that you can control both the bottom and top of the Roman shade independently for complete control over your window coverage.

Woven Wood Shades: Made from natural materials such as grasses, reeds, bamboos and woods, woven wood shades are designed to be entirely unique. Because they utilize entirely natural materials, no two shades will be alike. They can be crafted in a variety of opacity levels and styles based on your need, and the weave you request will determine outward view and light transfer in as well. You may need to attach a liner to your woven wood shade if you are looking for greater privacy or light dampening.

Specialty Shades: Your window treatment designs should be as distinct as the windows that house them. Custom made specialty shapes are an ideal way to add beauty and style to a home with uniquely shaped or sized windows. If your home features unique windows, then you should strive to find treatments that match the uniqueness of those windows.

Shadings: If you are looking to soften or diffuse the light entering a room without cutting it off completely, shadings are outstanding options. Light diffusion can work wonders with harsh shadows, giving the room a nice natural lighting without completely blocking out natural light. In the right situation shadings can be an ideal option for shading sunlight in a room. They come in many different sizes, styles and materials depending on how much shading you are trying to create.
Tips for Choosing the Right Window Treatments
Selecting the right type of window treatment for your space is about more than just knowing what the options are. Here are some tips to keep in mind when selecting the right window treatment options for your space.
If you want to add extra flare to your windows, consider combining several treatment styles such as blinds with valances. Creating a multi-faceted approach to your window treatments is a great way to make your rooms more versatile.

Shutters can fit in just as well outside as they do inside. Consider pairing traditional wooden shutters with window blinds so that you can either draw your blinds as needed or simply close the shutters.

Consider both how the treatment will look from the outside and the inside when making your purchase. If the window treatment is going to be visible from the outside looking in, then let this play a role in choosing the right treatment for your home.
Contact All About Blinds and Shutters for a free in-home estimate or for help determining the best way to give your window treatments a spring makeover.